Irish leaders hit Washington for St Patrick's Day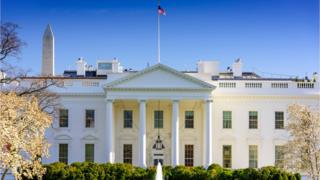 It may still be cold, but spring is in the Washington DC air.
The clocks went forward last weekend, the cherry blossoms are out and the political class are getting ready for the annual influx of leaders from Dublin, London and Belfast to coincide with events to mark St Patrick's Day.
The continuing fallout from the failure of the DUP and Sinn Féin to restore the political institutions is likely to overshadow this week's annual festivities.
Next month will see the 20th anniversary of the Good Friday Agreement, but there is no devolution and, with Brexit in the background, the shadow looms large.
So, how do you commemorate the 20th anniversary when there are no working institutions?
That's a theme that is likely to dominate discussions at this year's St Patrick's week.
There are, though, a number of firsts to celebrate.
It will be Leo Varadkar's first meeting in the White House with President Donald Trump as Taoiseach (Irish prime minister); it will be Mary Lou McDonald's first visit to Washington as Sinn Féin leader, as it will be for Karen Bradley, the new Secretary of State for Northern Ireland.
Nigel Dodds will be representing the DUP.
But President Trump and his White House administration have more pressing things on their minds these days.
There's a possible trade war over steel and aluminium tariffs; the politics of guns after another school shooting; an expected meeting with the North Korean leadership; a payment to a porn star and the ongoing FBI investigation into alleged Trump campaign links with the Russians.
Any possible announcement of a new US envoy to Northern Ireland may well make for some news at home, but it's unlikely to make waves in a Washington pre-occupied with the uniqueness of the Trump presidency.