MLA pay and Stoke City - Karen Bradley's not so happy birthday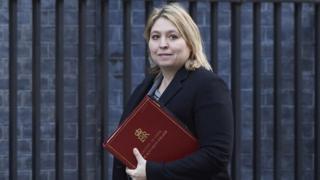 It's not how Karen Bradley had planned to celebrate her birthday.
Originally the secretary of state had scheduled a combined statement on the Stormont budget and MLA pay for last week.
But it's understood the DUP intervened and the two announcements were separated.
The consequence was that the controversy over a delay in cutting Assembly members' wages did not overshadow last week's news that £410m of DUP-Tory deal money was finally being siphoned into Northern Ireland's coffers.
That's why the opportunity to eventually make her statement to MPs coincided with Mrs Bradley's birthday on 12 March.
With MPs understandably exercised about the Salisbury nerve agent attack, allegations of bullying in parliament and hate crime messages directed against Muslims it was after 18:00 GMT before Mrs Bradley could get to her feet in the Commons chamber.
'Waffle, waffle, waffle'
Her comment that she is "minded" to reduce MLA pay, but plans to consult further before taking action hasn't impressed some.
Inside the Commons, the North Down MP, Lady Sylvia Hermon, appeared the most annoyed, accusing the secretary of state of dithering.
Outside, many members of the public share Lady Hermon's view, among them an ex-member of the Stormont finance panel Alan McQuillan, who told the Belfast Telegraph this was more "waffle, waffle, waffle".
But DUP MPs appeared more welcoming in their tone, demanding that if any action is to be taken against MLAs unable to take their places on the blue benches at Stormont, then there should also be a move to curtail the allowances available to Sinn Féin MPs who refuse to take their seats on the green benches at Westminster.
It's maybe not surprising the DUP isn't demanding an immediate MLA pay cut, as it would mean, among other things, that 28 DUP politicians stand to lose more than £13,000 each.
While Karen Bradley knows the decision to take her time won't go down too well with public opinion in Northern Ireland, that's probably outweighed in her calculations by the sensitivity of her party's parliamentary alliance with the DUP.
This helps explain why she is willing to entertain the idea of a "shadow" or "interim" assembly, recently floated by senior DUP negotiator Simon Hamilton.
The argument in favour is that such a shadow assembly might provide a gradual way of getting the parties to work together.
The downside is that it's no substitute for the real thing, and Sinn Féin and the SDLP have so far both rubbished the idea as a talking shop.
Will nationalists boycott such a body, if they regard it as mere window dressing for direct rule?
However, from the Northern Ireland Office (NIO) standpoint it's better to talk about alternatives to full-blooded devolution than not to talk about anything at all.
No doubt any discussions will also have to involve the preferred nationalist next step, which seems to be regular meetings of ministers from London and Dublin via the British Irish Intergovernmental Conference.
Outcome predictable
Moreover, any debate about such stop-gap measures could also have an impact on the argument over MLA pay.
After all, the report from former Stormont Chief Executive Trevor Reaney which suggested the £13,000 reduction also noted that "in the scenario of some form of transitional or interim assembly, with some plenary sessions and a limited range of committee meetings taking place, a higher level of salary than recommended above would be appropriate".
After chatting to Karen Bradley in her Commons office last night, I left her going off to record another interview, then hoping to finally enjoy the last few hours of her birthday by catching the end of the Monday night football match on the TV.
Her local side, Stoke City, currently struggling at the bottom of the table, were up against the runaway Premier League leaders, Manchester City.
Like so many Stormont negotiations, the outcome was all too predictable.
Oh well, "Happy Birthday" anyway, secretary of state!
Mea culpa: Had assumed when I wrote this that Karen Bradley would be backing Stoke City as it's so close to her constituency.
But thanks to my avid readers I now realise she is a huge Manchester City fan.
So it was a happy birthday after all!