MLA pay rise: Bradley asked to withhold £500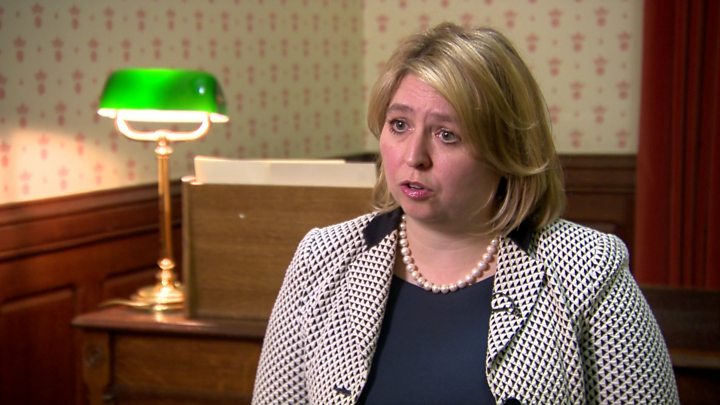 The Northern Ireland Secretary has been asked to withhold a £500 rise in MLAs' salaries that was due to be paid from next month, BBC News NI understands.
The request was made by the assembly commission and set out in a letter from speaker Robin Newton to Karen Bradley.
The move comes amid criticism of Mrs Bradley's decision to consult further before reducing MLAs salaries.
Northern Ireland has been without a functioning assembly since January 2017.
It has emerged that the DUP's member on the assembly commission, Jim Wells, abstained when the vote was taken to send the letter.
He told the BBC that he was not opposed to the decision, but rather the item had appeared on the agenda "without warning" and he had not had a chance to discuss it with his party.
'Not appropriate in the circumstances'
MLAs' annual salaries are due to rise from £49,500 to £50,000 on 1 April.
In the letter, Mr Newton said the assembly commission believed "it would be appropriate for the secretary of state to take action to ensure that the increase is not made amid the ongoing political difficulties".
The commission, which discussed the issue on 5 March, accept in the letter that the pay rise is "not a matter on which it has discretion" but agreed that such an increase was "not appropriate in the circumstances".
Earlier, Mrs Bradley denied dithering over MLAs' pay after the collapse of the Stormont talks.
The secretary of state, who has the power to vary wages, told MPs on Monday that she was minded to reduce MLAs' pay.
Last December, former assembly Chief Executive Trevor Reaney recommended a cut of 27.5%.
Mrs Bradley said she wanted to hear from Northern Ireland's political parties before making a final decision.
Asked whether she was considering the creation of an interim Assembly, she said a number of local parties had put forward suggestions about what could be done to provide extra scrutiny of decisions and that she was looking at all the ideas.
The secretary of state added that whatever she does will not undermine the 1998 Belfast Agreement or create an obstacle to the return of the executive, but would rather enjoy cross-community approval.
She recognises people are frustrated about the current deadlock and want immediate decisions, but said they do not want a development which might make it impossible in the future to secure the return of devolved government.
Mrs Bradley denied that the current position amounts to direct rule, but said she needed to pass a budget last week in order to enable public services to function properly.
She said she would launch a consultation on proposed new legacy institutions shortly and was getting legal advice on the implications of a recent court ruling that withholding funding for legacy inquests is not lawful.
'Get on with it'
Alliance Party leader Naomi Long reiterated her party's position that MLAs should face a pay cut in the absence of a functioning executive.
"We have said that if the Assembly wasn't restored in the time limit we should have MLA pay reduced, not because we aren't working - because we are - but because we're not doing the whole job and it's not sustainable," she told BBC Radio Ulster's Good Morning Ulster programme.
Mrs Bradley needed to make the decisions and "get on with it", she added.
"I wrote to the secretary of state when the talks collapsed and one of the key things I told her I thought needed to happen was reduced MLA pay so she knows where we stand," she added.
Voluntary coalition
Steve Aiken from the Ulster Unionist Party (UUP) also said decisions needed to be made.
He said: "No MLA would willingly say: 'It's now time to cut our pay.'
"But the Reaney report has been made... We need to look at alternatives like a voluntary coalition - we need to move on."
SDLP deputy leader Nicola Mallon said Mrs Bradley had "ducked a number of difficult decisions".
"Regrettably what we saw yesterday was another vague statement from a secretary of state talking about remaining steadfast and their commitment to the Good Friday Agreement but with no detail about how that's going to happen," she told the programme.
Mrs Bradley is travelling to Washington later this week to attend the US St Patrick's Day celebrations.
She plans to have discussions there with the chairwoman of the Policing Board Anne Connolly, who has complained about the impact the Stormont deadlock on the accountability of the PSNI.