Drugs courts: Justice system that aims to rehabilitate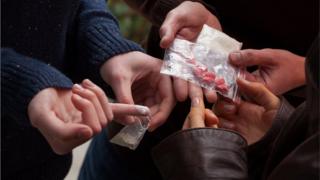 A new pilot project to introduce American-style 'drug courts' to Northern Ireland is being developed.
They are courts aimed at keeping drug users out of prison and getting them into treatment.
A senior American judge is in Belfast to advise local judges, politicians and others working in the criminal justice system about how they operate.
Gregory Jackson was appointed to the District of Columbia Superior Court in 2005 by then President George W Bush.
His work is mostly in 'drug courts', first introduced in the US in 1989.
Mr Jackson spoke at Stormont on Thursday at an event organised by the Probation Board for Northern Ireland.
"Our drug problem in Washington DC is consistent with what you find in most major metropolitan areas," he said.
"It makes up a substantial part of our criminal cases and even with those cases that are not drug related, very often the persons involved in the crime have underlying drug-use issues."
But those arrested possessing drugs like heroin and cocaine for personal use - or even some small-scale dealers - are offered a way to escape prison and a conviction.
They are given the choice of entering a long-term and closely monitored treatment and rehabilitation programme, typically lasting eight to 12 months, as an alternative.
Judge Jackson said drug courts were not about punishment.
"If you successfully complete the programme, you're done - you're out of the criminal justice system," he said.
"We average on any given day between 75 to 125 people participating in the drug court programme.
"Our graduation rate is around 50% to 60%."
Impressive statistics
That means that over half of those who begin the treatment programme complete it.
And they literally graduate, with special ceremonies held in courthouses to recognise their achievement.
The statistics are impressive.
Drug courts in the USA have been shown to reduce crime by 45% in comparison with other sentencing options.
According to Judge Jackson, they also save the public purse between $3,000 and $13,000 dollars per person.
Yet he admits that getting the public and politicians to recognise that they are not a 'soft option' has taken time.
Pilot project
"Early on, there was a lot of concern over whether we were coddling criminals," he said.
"As we've progressed over the years and people start to understand how the programme works, there's been much more acceptance.
"If you look nationwide there are now over 3,000 drug court programmes in the United States and that programme continues to grow."
A pilot project to introduce drug courts to Northern Ireland is now being developed but no firm date has yet been set for the first one to begin to operate.