Fr Seamus Reid connected to sex abuse at St Colman's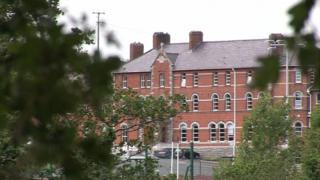 A second priest has been connected to sexual abuse at St Colman's College in Newry during the 1960s, the Nolan Show reports.
Fr Seamus Reid, who died in 2001, was not a teacher but did visit the school.
In 2015 the Catholic church confirmed that a catalogue of allegations had been made against the priest.
In February, it came to light that Fr Malachy Finegan, who taught at St Colman's from 1967 to 1976, had sexually abused pupils.
Warning: Article contains content some readers may find disturbing.
He died in 2002.
Towards the end of 2017 the school's Board of Governors was informed that the Diocese of Dromore had reached a settlement with one of Fr Finegan's 12 victims.
Never prosecuted
When the BBC Nolan show contacted St Colman's about the claims regarding Fr Reid, they were referred to a previous statement issued about Fr Finegan.
"The school will cooperate fully within the investigation regarding Mr Finegan by regulatory and statutory authorities," it read.
"This is the most suitable mechanism to address these issues.
"Given police have established a victims' unit to investigate the matter, and that there may be potential public inquiry and further civil proceedings, it would be inappropriate for the board to make any further comment."
Neither Fr Seamus Reid nor Fr Malachy Finegan were ever prosecuted for sexual abuse.
'Travelled around schools'
It has also been claimed that Fr Seamus Reid travelled around different schools to abuse children, including St Joseph's School in Newry.
Warning: Disturbing Content
A victim, who was a pupil at St Joseph's in the 1960s, spoke anonymously to the Nolan show.
He said: "(Fr Reid) would come round the classes and take people into a storeroom off each classroom for what he called confessions and that's where the sexual abuse happened.
"For the first few times you were made special and he would sit in the chair and you would kneel down between his legs.
"As time went on he'd take your hand and put it on his private parts.
"As more time would come on he would take you up on his knee and take your private parts out.
"At 11 years of age I didn't know what sex was.
"All I could do was smell the smoke off him - his stubby beard rubbing in my face where he'd be hugging you.
"Being a child you didn't know what was going on, but you knew it wasn't right."
An undated statement issued on behalf of the Diocese of Dromore said: "In 1997 a person approached Social Services regarding abuse which he suffered as a child involving the late Fr Seamus Reid.
"Social Services referred the person to the diocesan delegate in the diocese of Dromore.
"Since then all other allegations which have been made against the late Fr Reid were reported to the statutory authorities in line with national child protection procedures."
The statement confirmed that the Bishop John McAreavey of Dromore, who has offered his resignation, had met a number of victims of Fr Reid and urged "anyone who has been a victim of child sexual abuse by the late Fr Reid or any other priest of the Diocese to come forward".
The board of governors of St Colman's College said it unreservedly condemned all abuse, and advised any victims to contact the PSNI.
"The school will cooperate fully with any investigation regarding historic abuse by regulatory and statutory authorities," said the board.
"Until such investigations are complete it would be inappropriate for the Board to make further comment."