RHI Inquiry: Sterling admits responsibility for failings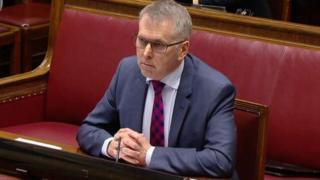 Northern Ireland's top civil servant has admitted personal responsibility for failings in the Renewable Heat Incentive (RHI) scheme.
David Sterling told the RHI inquiry that he now felt he should have asked the then enterprise minister, Arlene Foster, not to go ahead with it.
But he said he was not sure that even if he and senior colleagues had made that case, it would have been accepted.
RHI offered financial incentives if firms switched to renewables.
However, critical flaws meant its claimants could earn substantial returns, far greater than intended.
Mr Sterling admitted the number of staff working on the non-domestic RHI scheme was an "extremely light allocation of resources for a very significant project".
Counsel to the inquiry David Scoffield QC said the matters raised at the inquiry on Tuesday would be put to Mrs Foster when she gives her evidence.
Mr Sterling said he and senior colleagues David Thomson and Fiona Hepper all bore a responsibility to recognise the risk.
But he said that they had not foreseen what would happen with the flawed green energy scheme which ran out of control and out of budget.
Mr Sterling said he now accepted there had been deficiencies in what he had thought were robust "control arrangements".
The inquiry has heard numerous times about staffing issues in the Energy Division which was delivering the project and and the lack of energy expertise of the officials doing the work.
Mr Sterling told the inquiry he now accepted it had been a problem.
"To proceed with this project with such limited resource - I should have recognised at the time that this was an unnecessary risk.
"It would have been better if we had come together and said 'look I'm not sure we can guarantee to deliver this in a safe and secure way and perhaps this is one that we need to go to the minister and say not just now'.
"There would have been resistance to that and I'm not sure that even if we had made the case that it would have been accepted.
"That's the way I feel now", he added.
Reckless to proceed?
Later, Mr Sterling said Northern Ireland's civil service had been under huge financial pressure at the time RHI was introduced, and had faced much deeper cuts than elsewhere in the UK.
There were just two civil servants delivering the scheme in Northern Ireland and neither of them were energy specialists.
In Great Britain, specialists were among the 77 people were working on RHI.
The inquiry was told that colleagues, the assembly's enterprise committee and the minister, Arlene Foster, had all raised the issue of resources in Energy Division.
Mr Sterling said no-one had flagged up to him that it would be "reckless to proceed" and a judgement had been made that the staff could cope.
But he accepted that the department was taking a risk by relying on such a small team to take forward such a complex protect and he said he would "accept some personal responsibility for that".