Assumption Grammar principal quashes rumours of merger
By Robbie Meredith
BBC News NI Education Correspondent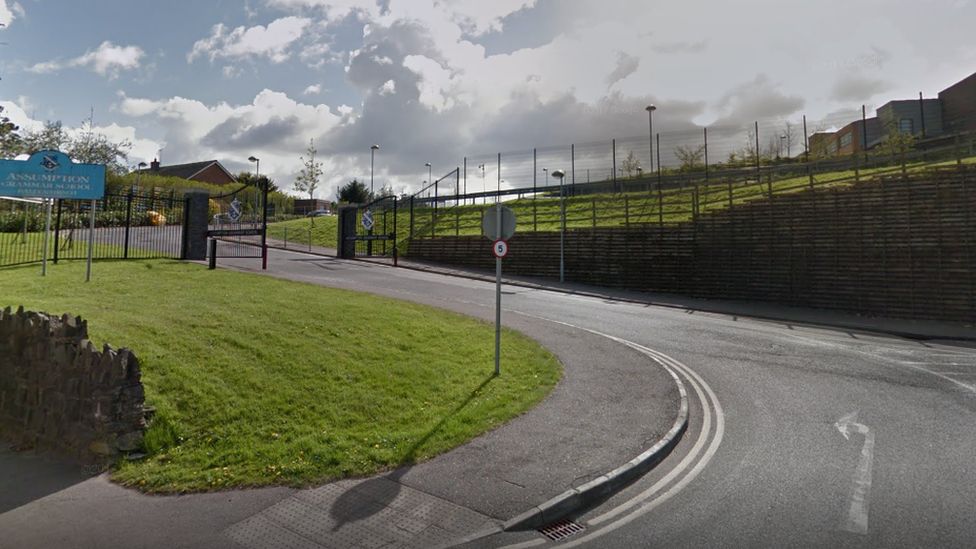 The principal of a County Down grammar school has written to parents to quash rumours of a possible merger.
Peter Dobbin from Assumption Grammar School in Ballynahinch said there were no plans to amalgamate with two other schools in the area.
His letter was backed by the school's trustees and board of governors.
It was critical of what it said were statements made by the Council for Catholic Maintained Schools (CCMS).
"It transpires that reference has been made publicly by CCMS to the fact that ongoing discussions are taking place between Assumption Grammar, St Colman's and St Colmcille's re an amalgamation or a potential way forward," his letter said.
"We categorically state there have been no such discussions."
The schools Mr Dobbin was referring to are St Colmcille's High School in Crossgar and St Colman's High and Sixth Form College in Ballynahinch.
In a statement, CCMS said that as part of consultations on the proposed school merger in Downpatrick they and trustees of the Down and Connor diocese had briefed trustees from Assumption Grammar and the Dromore diocese on the plans.
But they said that no similar proposals had been discussed with schools in Ballynahinch and Crossgar.
Assumption Grammar is an all-girls school with about 840 pupils. It opened in 1933.
In his letter to parents, Mr Dobbin said the school was seeking permission from the Department of Education (DE) to admit more pupils from September 2019.
"Assumption Grammar is committed to ensuring that parents and their children are not denied the choice or the right to access a leading Grammar school education, if they so wish," he continued.
Mr Dobbin concluded by writing that local parents should not be "penalised by a lack of access to a Catholic Grammar School education, widely available to other parents and their children throughout Northern Ireland".