Alliance Party sets out plan to break Stormont deadlock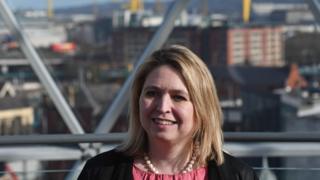 The Alliance Party has published a number of proposals for breaking the deadlock at Stormont.
Alliance said its paper, "Next Steps Forward", aims to "re-inject momentum into the process to restore devolution and bring stability to local politics".
Northern Ireland has been without an executive since January 2017.
The paper suggests NI Secretary Karen Bradley could choose to legislate for some or all of the issues that divided the DUP and Sinn Féin during talks.
If Westminster legislated for areas like same sex marriage and the Irish language "this would take pressure off the parties to deliver their constituencies in support of those issues, and allow a shift in the baseline position before returning to talks, increasing the prospect of agreement to form an executive", the party says.
The paper adds that taking some difficult measures through Westminster would also prevent a situation where the first tasks facing a fragile restored assembly and executive happen to be some of the most difficult and sensitive issues, "placing the structures under considerable stress from the outset".
Other suggestions put forward by Alliance include reconstituting assembly committees to scrutinise the work of Stormont departments, reconvening the British-Irish Intergovernmental Conference and re-establishing the Policing Board.
Alliance would also favour the creation of a cross-party committee to ensure Northern Ireland's voice is heard in relation to the Brexit negotiations.
The paper reiterates Alliance's view that an independent facilitator should be engaged for any fresh round of multi party talks.