'Health hubs' could reduce hospital waiting lists
By Marie-Louise Connolly
BBC News NI Health Correspondent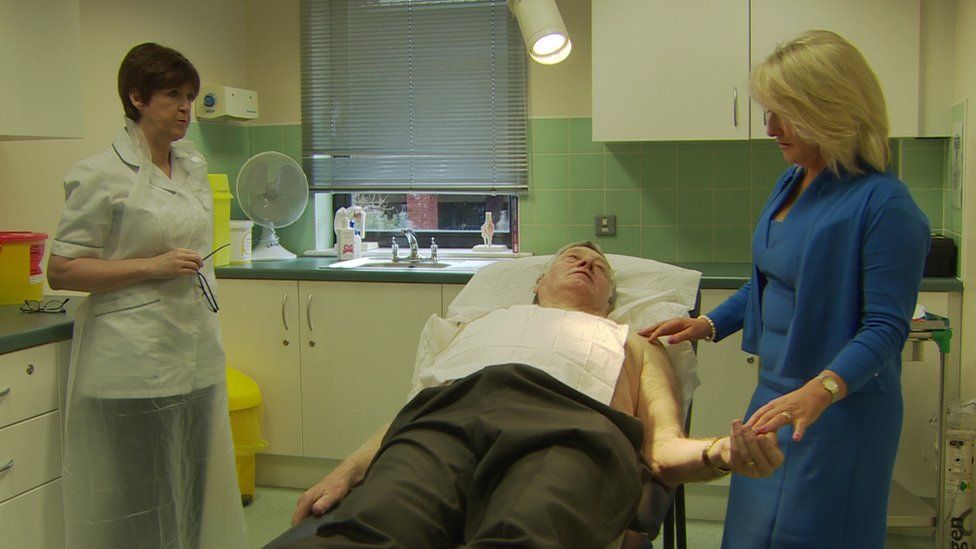 Northern Ireland's hospital waiting times are not getting any shorter - in fact they have been rising across all specialities since 2014.
For example, take dermatology - in December 2017, more than 10,000 people were waiting more than nine weeks for a first outpatient appointment.
For some patients that will start a process of referrals and treatments lasting possibly years.
For others, the problem could be resolved after just one appointment.
Eric Kinder had been worried about a lesion on his arm and saw his GP in October 2017.
Rather than refer him to hospital where he would have joined the long list of people waiting to be seen by a specialist, Mr Kinder returned to the GP surgery the next day where the lesion was removed and sent for biopsy.
Within a few weeks his results came back all clear. The entire process took weeks as opposed to years.
"I didn't have to go anywhere near a hospital and I didn't have to be on any waiting list and they were able to do it then and there," said Mr Kinder.
It is more surgery-based services like this one that the £70m transformation money will be spent on.
The idea is to create 17 health hubs across Northern Ireland, where clinicians will be able to perform minor surgery including vasectomy procedures.
Such a system could reduce waiting lists in these areas by up to 50%.
For each region there are strict targets that local services are expected to meet across the UK.
But what are the chances of being seen in time where you live? Use our interactive tracker to find out:
Dr Siobhan McEntee is Mr Kinder's GP and she performed his biopsy.
"I think these hubs will showcase the job of a GP - that we have our generalist input but we also can diversify and deliver specialist skills.
"There's a highly-skilled workforce out there that are perhaps underutilised - there is also the benefit that GPs who don't want to work on this project will have their patients seen in a more timely manner so they will have a better outcome having been seen earlier."
Mr James Patterson, a consultant surgeon in the Causeway Hospital, thinks this new system makes sense for everyone.
"Nobody likes change but having been to Australia for a year and seeing how things can be done differently I think it is something we need to take on board."
If sustained, this small step of using local GP surgeries could have a big impact on waiting lists.
While additional funding, if it were available, could bring waiting lists down it would only be for the short term.
What is required is long-term, lasting solution, which will reform how services are delivered. And this is why the transformation money and all of it is crucial to change how the current system works.
GPs and their surgeries are just one small part of the health service, but if utilised and funded better they could provide a large part of the solution.
In fact, Integrated Care Partnerships (ICPs) and GP Federations are working with the Health and Social Care Board and the Public Health Agency to design and implement such alternatives to hospital appointments.
ICPs are collaborative networks of care providers, bringing together professionals including doctors, nurses, pharmacists, social workers, and hospital specialists.
Utilising all of the above for more minor surgeries frees up hospitals and consultants for more complex cases.