DUP and Sinn Féin clash over Northern Ireland political process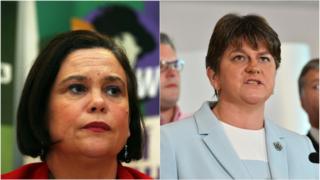 The DUP and Sinn Féin have clashed over the way forward for the political process in Northern Ireland.
Northern Ireland has been without a functioning executive since January 2017.
Subsequent talks have failed to restore the power-sharing executive.
DUP leader Arlene Foster was speaking at her party's Spring conference in Ballymena, County Antrim, while Sinn Féin president Mary Lou McDonald was in London.
Mrs Foster had Sinn Féin in her sights and posed the question: "What are Sinn Fein delivering for our people?"
"The answer is short and simple - absolutely nothing," she added.
"Sorry, that isn't entirely fair. Sinn Féin are at least trying to deliver. They are trying to deliver division and dysfunction."
Mrs Foster also claimed that Sinn Féin were "putting their own narrow political interest first".
She attacked Ms McDonald's party by saying that "we are not going to allow them to hold Northern Ireland to ransom any longer".
Mrs Foster also referred to the recent Stormont budget presented at Westminster by the Northern Ireland Secretary Karen Bradley.
She said: "It was a budget that had the hallmarks of this party as the resources promised in the Confidence and Supply Agreement began to flow.
"£410m of additional spending without which a difficult budget would have been far worse."
Mrs Foster added: "We must support and encourage the secretary of state to take those necessary decisions because, as much as we want to see the Assembly and Executive up and running again, let's face it, the prospects of a return of devolution anytime soon doesn't look promising."
'Bin the Good Friday Agreement'
In London, Ms McDonald talked about Brexit and the political process.
She said some were "prepared to bin the Good Friday Agreement in pursuit of Brexit".
Ms McDonald also spoke about the idea to establish a transitional assembly at Stormont in the absence of devolution.
She said: "Any proposed shadow Assembly would mark a retreat from power-sharing and the leadership needed to restore the Good Friday Agreement framework.
"It would be an unacceptable step backwards, lacking credibility."
The Dublin Central TD who succeeded Gerry Adams last month as party president, again called for a meeting of the British-Irish Intergovernmental Conference.
She said: "Both governments must now convene the British-Irish Intergovernmental Conference to find a way to implement outstanding agreements and to fully respect the rights of citizens to marriage equality, to language rights and the funding of legacy inquests."
Ms McDonald added: "Direct rule is not an option. It was a failure in the past and would be so again."
The DUP and Sinn Féin have been engaged in a public war of words since the talks process aimed at restoring devolution collapsed last month.
Sinn Féin insist the DUP agreed a deal to restore power-sharing that involved an Irish Language Act and an Ulster Scots Act.
The DUP insist that a deal had not been agreed.