Bishop John McAreavey: Pope names replacement bishop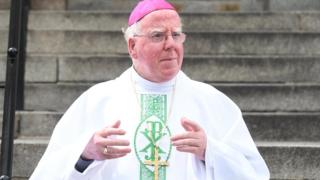 The Pope has appointed the former Bishop of Raphoe, Philip Boyce, to stand in for the Bishop of Dromore following his resignation.
Bishop John McAreavey stood down amid controversy over celebrating Mass alongside a priest whom he knew was a paedophile.
The late Fr Malachy Finegan has been accused of sexual abuse by 12 people.
There had been calls for Bishop McAreavey to resign.
Parishioners told the BBC they would no longer set foot in the parochial house in Hilltown , County Down.
Pope Francis announced on Monday that he had accepted Bishop McAreavey's resignation.
He has appointed Bishop Boyce as the apostolic administrator of Dromore, while the seat remains vacant.
Bishop Boyce, 78, is originally from Donegal and spent much of his life teaching and preparing young men for the priesthood in Rome.
He served as Bishop of Raphoe from 1995 until last June when he stepped down.
Fr Finegan, a teacher at St Colman's College in Newry from 1967 to 1976 and president of the school from 1976 to 1987, is also accused of a catalogue of physical and emotional abuse against pupils.
The PSNI's public protection branch has set up a dedicated team to investigate complaints of clerical and institutional abuse involving Malachy Finegan.
In a statement, it added that there is a legal obligation for anyone who has information about a serious crime to bring it to the attention of the police.
Malachy Finegan died in 2002 and Bishop McAreavey has previously apologised for conducting his funeral Mass.