Rugby rape trial: What lessons can be learned?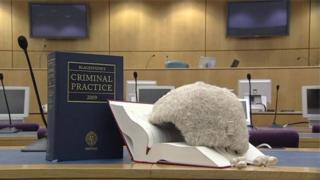 It was a case that was too big and burly for the confines of a court room.
The rape trial of two Ulster rugby stars played out in a social media thunder storm across the world.
There was more mud than a Six Nations match.
In the twitter-sphere, there were shockwave revelations, lightning flashes of righteous anger, showers of sheer nastiness, snide comments and plain character assassination.
The Belfast trial judge, Patricia Smyth, found herself battling a blizzard to hold the jury under a large, wonky legal umbrella.
She warned them again and again to keep away from the press and social media.
All the defendants in the case were cleared of all the charges.
As the trial played out over eight and a half weeks, Women's Aid in Northern Ireland felt the tremors.
"We've had phone calls to our helpline from women who have decided to withdraw complaints," said chief executive officer Jan Melia.
"They do not want to go through the whole process. They do not want to be treated like that in the court or in the media.
"It was the grilling that she (the complainant) got.
"Then there was that sort of character assassination and the victim blaming - it was the whole media surrounding the case."
Women's Aid supports women whether they choose to take a case forward or not.
Ms Melia said: "The media coverage has demonstrated quite markedly that the process for the victim is excruciating, it punishes them."
There are questions to be asked, she said.
"Is the law adequate? Do we need new media guidelines to avoid putting those involved and their families through this - both the young woman and, also, those accused?
"It adds insults to injury for both sides. We need to look at the law and the process for both sides."
'It's an awful process'
Ms Melia believes there may be a case for a fundamental change to the legal system citing examples of countries where both parties remain anonymous.
The fall-out from the rugby rape trial is "hugely worrying", she said.
"We know reporting of sexual violence is very low. Women do not call police," she says.
"What this case demonstrates is what they are going to go through. It's an awful process in which they are just annihilated."
Ms Melia is concerned about young people's sexual behaviour and attitudes. She has called for mandatory education in schools.
Legal expert Joshua Rozenberg said rape cases are "particularly difficult to try".
"The question of consent is often one person's word against another," he said.
"Establishing consent is particularly difficult when those involved have had a lot to drink."
He pointed out the dangers of social media.
"Members of the public may not realise that, by publishing information on social media about a current case, they are in contempt of court and liable to punishment.
"Social media has turned everybody with a smart phone into a publisher but non-journalists are not aware of the law."
'Same questions'
As regards the length of this particular trial, he said that a judge must always keep control of a criminal trial and it can be difficult to decide when to limit cross-examination of a complainant.
"Judges sometimes ask defence barristers to agree among themselves how to divide cross-examination so that a defendant does not have to answer the same questions from different defence lawyers."
Monica McWilliams, an academic and politician who served as Northern Ireland's Human Rights Commissioner, has conducted extensive research into domestic violence.
This was a standard trial, she pointed out, but it has gone into huge detail.
"Victims watching this may be asking themselves: 'Do I want to put myself up for something as adversarial as that?'" she said.
The courts provide support for complainants, she said.
The young woman was seated behind a screen to give her evidence; she was able to observe proceedings and she may have availed of the court's befriending system and the opportunity to leave via a different entrance to avoid "running the gauntlet" of a public departure.
"This has been played along legal lines," she said, noting that Judge Smyth had been "very clear" and did her best, legally, in advising the jury.
As for the eight days the complainant spent on the witness stand, Mrs McWilliams said that those accused are "absolutely entitled to their legal defence".
"It is tough on the victims when there are multiple defendants," she said.
For a woman, this can be extremely challenging.
Mrs McWilliams is clear: given the flurry and hype around this case, it's time for change, she said.
"We have to start a big awareness campaign. It is the only way.
"We have a Sexual Assault Referral Centre - SARC. Let people know that this exists. It is fabulous. The victim can come with family or friends.
"We fought for years to get it and it's the only one in Northern Ireland."
'Tragedy for everyone'
However, she does not hold with the view that the fall-out from this case is that it will stop women taking a complaint forward through the judicial system.
"I don't think you can afford to say that - to be so negative," she said.
In the end, after a marathon of a court trial, there can be no real winners.
A defence barrister for one of the accused summed it up in his closing statement: "The problem for this case is that it is a tragedy for everyone involved," he said.
"The defendants, [the complainant] and the three young women who went out for a night and found themselves in the headlines of newspapers."