Ian Paisley invites Donald Trump to visit Northern Ireland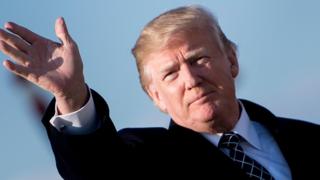 US President Donald Trump has been invited to visit Northern Ireland by the Democratic Unionist Party (DUP) MP Ian Paisley.
No firm plans for a presidential visit are in place, but the MP said Mr Trump "indicated" he would be happy to come.
"I spoke to him 10 days ago and personally issued that invitation," Mr Paisley told the BBC's Evening Extra programme.
"I'm confident that he will be here very soon."
The North Antrim MP told Evening Extra that Mr Trump "has indicated to me personally that it is his intention to visit.
"I look forward to welcoming him and to seeing him, hopefully in County Antrim."
Mr Paisley was in the White House earlier this month, during the annual St Patrick's Day celebrations.
At the time he tweeted that he was the "only person from NI to be invited to a private family reception".
It is not the first time Mr Paisley has asked the president to visit his constituency.
Last year, the Belfast Telegraph reported that the DUP MP invited Mr Trump to Royal Portrush Golf Club, when it hosts the Open golf championship in 2019.