Fr Malachy Finegan: PSNI team investigates abuse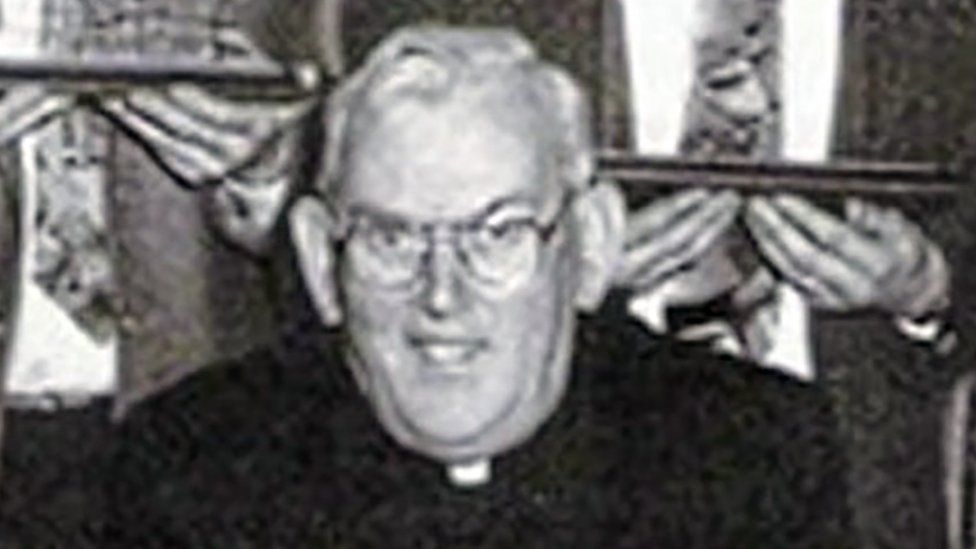 The police have set up a dedicated team to investigate the circumstances of the child abuse carried out by the late paedophile priest, Fr Malachy Finegan.
The County Down parish priest, who also taught at St Colman's College in Newry, has been accused of a litany of sexual and physical abuse against young boys.
The PSNI said although he died in 2002 and "can no longer be held accountable in a court", lessons may be learnt from how authorities dealt with him.
They asked victims to contact the team.
The new team has been set up within the Public Protection Branch of the Police Service of Northern Ireland (PSNI).
The investigation has several aims, including establishing when the authorities first became aware of the abuse allegations, what information was reported to police and what action was taken to protect children and young people at that time.
Officers also want to find out if past pupils from St Colman's College were abused by anyone other than Fr Finegan during his 20-year tenure at the Catholic grammar school.
The PSNI said the team would try to establish if there was any "living offender" and "take action" against them.
They will also assess whether there are any current child safeguarding risks or if there are any lessons to be learnt from how the authorities dealt with Fr Finegan.
Appealing to victims, the PSNI said: "If you were abused by Father Malachy Finegan, or abused by any other person at St Colman's between 1967 and 1987, the investigation team would like to hear from you.
"Please report the matter directly to the PSNI on 101, the non-emergency number."
Fr Finegan began working in St Colman's College in 1967, was later employed as a teacher and was eventually promoted to serve as the school's president.
After he left the school, he was appointed a parish priest in Clonduff, County Down, where he was also accused of a long campaign of child sexual abuse.
The priest was never prosecuted for sexual abuse or questioned by police about the claims made against him.
However, the allegations were reviewed by the National Board for Safeguarding Children - a clerical abuse watchdog set up by the Catholic Church.
The scandal broke in February, when the Diocese of Dromore announced it had reached a compensation settlement with one of 12 people who had accused Fr Finegan of abuse.
The controversy led to the resignation of Bishop John McAreavey of Dromore, who was criticised for concelebrating a Mass with Fr Finegan despite being aware of the serious allegations against him.
In his initial statement in February, Dr McAreavey apologised to victims for officiating at Fr Finegan's funeral in 2002.
The bishop also said: "The first allegation against Malachy Finegan came to light in 1994 some seven years after he left St Colman's College.
"The second allegation came in 1998 and was not related to his tenure at St Colman's.
"No further allegations emerged until after his death in January 2002."
The allegations of abuse by the priest were first reported after a long-running investigation by BBC NI's Spotlight programme.