NI same-sex marriage bill passes first stage in Lords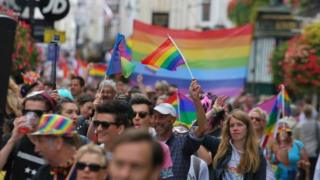 A bill calling for same-sex marriage to be legalised in Northern Ireland has passed its first parliamentary stage in the House of Lords.
Northern Ireland is the only part of the UK where it is still banned.
Conservative peer, Baron Hayward, introduced his proposed legislation in a private members' bill on Tuesday.
The private members' bill is unlikely to pass into law but it does provide a way for peers to highlight their concerns.
'Highly divisive'
Lord Hayward told the BBC's Evening Extra programme he had a lot of support and hoped "in one form or another, to get this into law".
"It was a clear indication in the Lords this afternoon - normally when you introduce a private members' bill, it's received with silence," the peer said.
"There was audible 'hear, hear' from all sides of the chamber, which indicates it's a general view."
He told the programme he did not hear shouts of "shame" as he began to read his bill.
"The chamber was overwhelmingly in support and the message is absolutely clear - that most people, politicians of all sides and cross-benchers who are of no side - take the view that equality is not something you can pick and choose on around the United Kingdom.
"It should apply to all parts of the UK."
Timeline of same-sex marriage:
The issue of same-sex marriage has proved highly divisive in Northern Ireland and is one of the main sticking points in Stormont's ongoing political crisis.
A decision on whether or not to legalise it would normally be decided by the Northern Ireland Assembly, but it has not been functioning for more than a year.
Before devolved government collapsed in January 2017, members of the Northern Ireland Assembly (MLAs) voted five times on whether or not to introduce same-sex marriage.
During the most recent vote, in November 2015, MLAs voted in favour of same-sex marriage for the first time, with a narrow majority of 53 votes to 52.
However, it was vetoed by the Democratic Unionist Party (DUP) using a measure known as a petition of concern.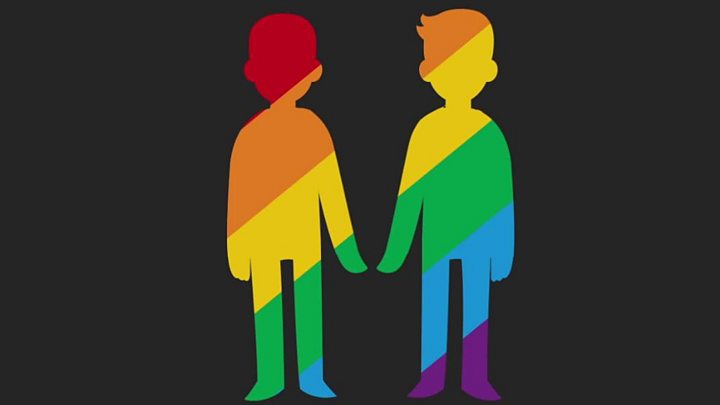 Currently, not only are same-sex weddings banned, gay and lesbian marriages carried out elsewhere are also not recognised in Northern Ireland.
'Free vote'
Since the last assembly vote, the Conservative Party has struck a parliamentary deal with the DUP which keeps the government in power at Westminster.
Despite relying on DUP support, last month Northern Ireland Secretary Karen Bradley told the House of Common if the issue were to be raised in parliament, the government would allow a free vote on matters of conscience.
Lord Hayward's bill called for:
Same-sex marriage to be legalised
Same-sex marriages solemnised outside Northern Ireland to be recognised
Provisions in the law for the conversion of civil partnerships to marriages
A review of civil partnerships to make provisions for rights to pensions and social security contributions for same-sex married couples and civil partners
To make provision for gender change by married couples and civil partners
On Wednesday, the Labour MP Conor McGinn will also introduce a ten minute rule bill on same-sex marriage for Northern Ireland in the House of Commons.