Former priest 'disgusted' at Bishop Boyce appointment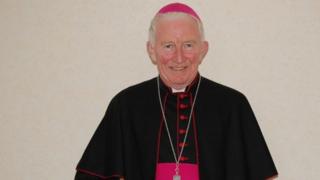 A retired priest has spoken out against the appointment of Philip Boyce as interim Bishop of Dromore.
Former Bishop of Dromore John McAreavey stood down in March amid controversy over celebrating Mass with paedophile priest the late Fr Malachy Finegan.
Fr Eamon Murray says his is "disgusted" with Boyce's appointment.
In 2011 Philip Boyce was criticised for his handling of clerical sex abuse allegations when he was Bishop of Raphoe.
Fr Eamon Murray who is living in the Diocese of Dromore, said news that Bishop Philip Boyce is to replace John McArevey "rubs salt on the wound" of an already hurt community.
"I think it is a disgusting appointment. I am really really upset about the appointment of him to Dromore," he said.
A review into the handling of clerical child sex abuse allegations in the Diocese of Raphoe in 2011 found that a "significant level" of clerical abuse occurred in the diocese.
The report said the diocese now had a robust safeguarding policy in place and that Bishop Boyce had been willing to learn the painful lessons of the past. However they were critical of how successive Bishops of Raphoe had handled serious cases of abuse.
At the time, Bishop Boyce fully accepted the recommendations and apologised for "poor judgements" in managing priests accused of "horrific acts of abuse" against children.
Fr Eamon Murray said Bishop Boyce's role in the historic case involving paedophile priest Fr Eugene Greene means he is unsuitable to be the apostolic administrator in a diocese that has been hurt by historic clerical abuse.
Eugene Greene was jailed for 12 years in 2000 after pleading guilty to 41 sample charges against 26 victims between 1962 and 1985.
Speaking on the Nolan programme Fr Murray said he was "frightened" for speaking out, but he was "so incensed" with the appointment of Bishop Boyce to Dromore.
"I can't believe this man has been appointed after his tenure in Raphoe," he added.
Acknowledging that Bishop Boyce accepted the findings of the 2011 report, Fr Murray said "words are cheap" and that he believes the community in Dromore "should resist" the appointment.
A spokesperson for the diocese of Dromore said Fr Eamon Murray is not a priest in the Dromore diocese and is under the jurisdiction of the diocese of Northampton.
The spokesperson added: "He does not minister for the diocese of Dromore and does not live in a property owned by the diocese."