NI Paper review: Rape trial verdict and its aftermath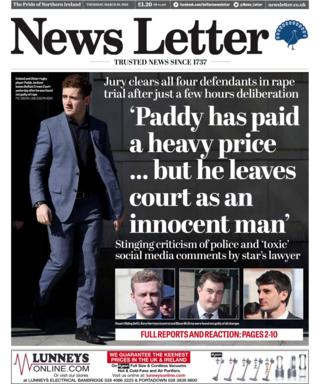 There's only one story in town this morning.
All the papers lead with the acquittal of two Ulster rugby stars in a rape trial which lasted weeks and provoked much public debate on social media.
Paddy Jackson and Stuart Olding were found not guilty of the charge on Wednesday.
Their friends Blane McIlroy and Rory Harrison were also acquitted on lesser charges.
However there is one face that dominates each front page - Paddy Jackson's.
The Irish News goes for a full page picture and simply headlines it "ACQUITTED".
The News Letter leads with the words of his lawyer: "Paddy has paid a heavy price but he leaves court as an innocent man".
"There are no winners here" - The Belfast Telegraph's headline quotes the PSNI officer who led the investigation, Det Ch Insp Zoe McKee.
One stand-out feature of all the coverage is criticism of social media discussion during the trial.
Mr Jackson's lawyer Joe McVeigh heavily criticised the "vile commentary" on Twitter which, he says, went "well beyond fair comment".
The Belfast Telegraph's Eilis O'Hanlon draws the distinction between the "legal minefield" reporters walk through juxtaposed with the lack of "compunction" of many social media users.
Whatever side was being taken in these online views, she writes, the comments were "equally irresponsible".
While Mr Jackson's lawyers pointed the finger at Twitter, Ms O'Hanlon asks, is there anything realistically that can be done to "mute the blizzard of white noise on social media that now accompanies every aspect of public life?"
She adds that any crack down on "internet chatter" could have a "chilling effect on liberty".
The reader is well into double figures in each paper before reading about anything other than the trial.
You would be forgiven for forgetting that it is exactly one year to go until Brexit. And there's more.
Theresa May is coming to Northern Ireland later as part of a "whirlwind tour" of the UK.
The News Letter says the prime minister will have lunch with farmers near Belfast before travelling to Wales.
The death of four members of the same family in a house fire in County Fermanagh shocked the community.
On Wednesday a memorial was held for Denise Gossett, her son Roman Gosset, 16, her daughter Sabrina Gosset, 19 and Sabrina's 15-month-old baby girl, Morgana Quinn.
Now the PSNI is appealing to those who knew the family to get in touch with them, reports The Irish News.
Police released their images on Wednesday along with an appeal for "anyone who was in contact with Sabrina or Roman" in the weeks leading up to their murder.
The paper also reports that the row over the County Down play park named after a hunger striker continues.
A banner describing IRA member Raymond McCreesh as "Our hero" was condemned as "sick" by a Unionist councillor for the area after it appeared in the park in Newry.
David Taylor said it was a "deliberate insult directed at McCreesh's victims".
Perhaps some good news for north coast residents and day trippers heading for a poke.
The Causeway Coast and Glens council has voted to overturn a controversial decision to enforce parking charges, reports the News Letter.
The plan to charge for parking in some coastal towns like Portrush and Portstewart provoked a strong reaction amongst locals.
However at Wednesday's council meeting the measure was defeated by a "six-strong group of UUP councillors," the paper says.
The group said while it appreciated the pressures the council faces in terms of carpark up-keep, such charges would have been a "knee-jerk reaction".
Independent councillor Padraig McShane said "The proposal ran against our aspirations as a tourism destination".