John F Kennedy Fermanagh connection traced
By Louise Cullen
BBC NI News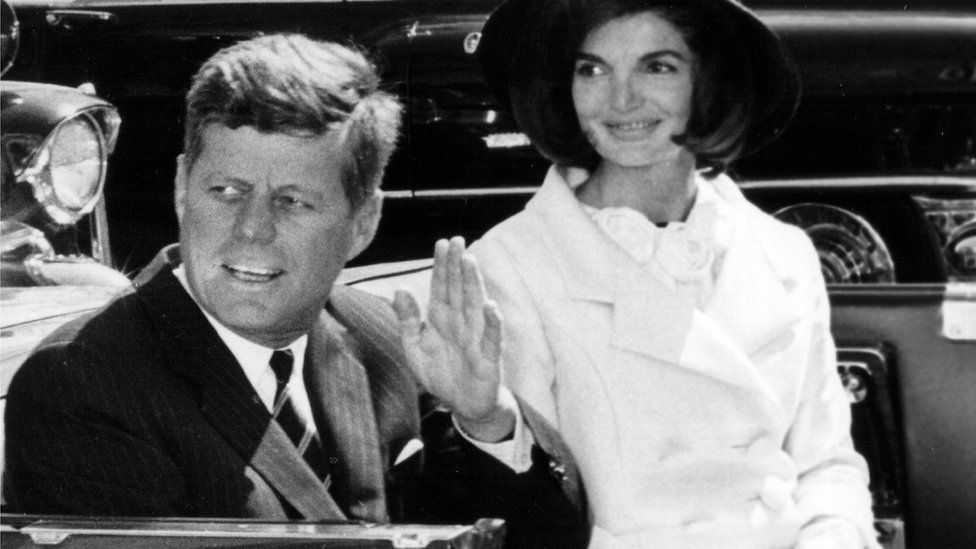 He was the young, good-looking, charismatic president who captured the imagination of the world.
As John F Kennedy took his place in the White House in 1961, everyone wanted to have some kind of connection to him - nowhere more so than in Ireland.
Counties Limerick, Wexford and Cavan laid claim to a link through his great-grandparents - the Kennedys, Murphys, Fitzgeralds and Coxes.
But, now, research by a Fermanagh priest has revealed that JFK's maternal great-grandmother, Rosanna Cox, actually came from County Fermanagh.
Fr Ultan McGoohan has long been fascinated by the Kennedys and a trip to the official homestead set him on a journey of discovery.
"If you visit the Kennedy homestead in Dunganstown, County Wexford, you can read up about Rosanna Cox," said Fr McGoohan.
"It states she came from Toneymore in County Cavan. Someone drew my attention to it and it stayed in my mind that that just wasn't quite right."
Taking up his curateship in nearby Teemore, he began to research the parish records, patchy at best in the mid-19th century and complicated by the redrawing of parish and county lines over time.
But he quickly found links to Kennedy's great-grandmother.
"When I came here, I discovered that the townland of Toneymore is actually in County Fermanagh," Fr McGoohan said.
"And then I looked up Griffiths' valuation for 1862 and there I find a Philip Cox, farming and renting land and having a house in the townland of Toneymore.
"I was very surprised when I contacted the landowner and discovered that the remains of the house were still standing.
"So we believe this is where Rosanna Cox, the great-grandmother of President Kennedy, spent some of her formative years before emigrating to Boston."
Philip Cox was Rosanna Cox's father. She later emigrated in hopes of a new life, meeting and marrying Thomas Fitzgerald in Boston in 1857.
"They had 12 children," Fr McGoohan said.
"Her fourth son was John F Fitzgerald, and his daughter was Rose, who married Joseph Kennedy and (they) were the parents of JFK."
It means the descendants of Philip Cox of Toneymore have a connection to a political dynasty that still captures the imagination today.
"I was a wee bit shocked, I thought it couldn't be possible but it seems it is," said Hubert McCaffrey, the landowner and a descendant of the Coxes.
"My great-grandaunt was Brigid Cox and the land was passed down through generations, to my uncle and aunt, then to me."
Brigid Cox's exact bloodline to Rosanna isn't known for certain because of gaps in the records, but there is no doubt that there is a very close connection.
One of Hubert's daughters, a great-great-grandniece of Brigid, has done some research of her own.
"It was a complete shock to us," said Aoife McCaffrey.
"We never thought there would be a connection in any way. This house has always been here and we never thought of it as anything other than Biddy Cox's house.
"It's quite difficult looking back that far. Records are very patchy and we found it very difficult to follow our family trail."
But follow it they have, with Fr McGoohan's help, and the hope is that the local Kennedy connections can now be built on.
"The north of Ireland contains many ancestral homes of United States presidents and this is now another place of historic interest," said Fr McGoohan.
"I think it would be wonderful if we could put together a sort of presidents' trail that people could follow when they visit the north."
That would see the tumbledown stones of Toneymore join the likes of Ulysses S Grant's ancestral home in Ballygawley and the homestead of Thomas Woodrow Wilson, in cementing the links between the west of Northern Ireland and the presidential office.
Rosanna Cox herself never knew anything of the political dynasty her line would form.
"The end of her life was rather sad," Fr McGoohan said.
"It was a Sunday afternoon. All of the family were away at a church picnic and a rumour went round the neighbourhood that all of the family, all of her children, had been killed in a tram accident.
"She dropped dead of shock.
"She was only a young woman in her 50s. And of course, the story was untrue.
"So she never lived to see her son become the mayor of Boston and naturally she could never have imagined that her great-grandson would become the first Catholic president of the United States."