Puppet and pipe bomb at 'Troubles and Beyond' exhibition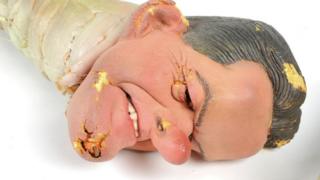 A pipe bomb, an LP of UVF songs and a Spitting Image puppet of Peter Mandelson.
They are just some of the attention-grabbing artefacts displayed in the new 'Troubles gallery' in the Ulster Museum.
It replaces the museum's previous exhibition about the conflict, which was based mainly on photos and text.
The gallery - and 'The Troubles and Beyond' exhibition - opens on Friday.
Many of the artefacts and objects have been donated by members of the public, and are on show alongside those from the museum's own collections.
There are objects from members of the security forces, former prisoners and paramilitaries, as well as civilians.
Among them a bomb disposal robot, a bodhran with Bobby Sands' picture on it and an RUC constable's helmet damaged by a petrol bomb in a riot in Londonderry in the 1970s.
Some speak of terrible tragedy.
The guest book from the Ulster-American folk park from 15 August 1998 is displayed.
A group of Spanish school pupils visited the museum that Saturday morning before heading for Omagh town centre.
12-year-old Fernando Blasco Baselga signed his name in the visitor's book.
He was to be among one of 29 people and two unborn children killed later that day in the Omagh bomb.
The director of National Museums NI, Kathryn Thompson, acknowledged that there were difficult objects in the gallery.
"This allows people to look at things from a different perspective than they may have come from previously," she said.
"It's an opportunity to ask and explore difficult questions.
"It's an opportunity for people to come together and share different experiences and to help us work together to build a more positive future."
The exhibition also contains material up to the present day, like Sinn Féin anti-Brexit posters and t-shirts from the loyalist flag protests.
There is also a copy of the final memorandum from the Good Friday Agreement negotiations, signed by those involved including David Trimble, John Hume and Martin McGuinness.
Some of the collection was acquired due to a grant from the Heritage Lottery Fund, and their casework manager Stella Byrne said she hoped visitors would come to the exhibition with an open mind.
"I hope they come recognising that this is a national institution trying to take a lead," she said.
"I hope they recognise that this is a shared space and a place they can come to have conversations in a safe way.
"There's nobody here trying to put one particular political viewpoint across.
"It's trying to look at things from a very rounded perspective."
The exhibition also places the last 50 years of Northern Ireland's history within the context of global events, and is free to visit.