NI paper review: Rugby rape trial grabs headlines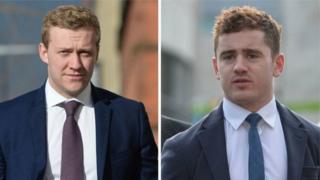 Two days after a jury found two Ulster and Ireland rugby players not guilty of raping the same woman, the case continues to grab headlines.
The Irish Times and Belfast Telegraph both carry reports which are sure to keep the story on the news agenda.
Comments made online by a juror in the trial have been referred to Northern Ireland's attorney general, reports the Irish Times.
The juror reportedly made the remarks in the comments section of an article about the acquittals in the trial.
The first comment allegedly appeared about seven hours after the jury delivered unanimous "not guilty" verdict for all four defendants on all counts.
Social media warning
The juror is said to have made a series of comments describing the trial, as well as answering questions from other users.
The posts reportedly set out the reasons the jury came to its decision and defended the amount of time it took to reach a verdict.
Two people have also been questioned by police after allegedly revealing the identity of the complainant in the rape trial, The Belfast Telegraph reports.
Complainants in rape trials in Ireland and the UK are entitled to anonymity and it is an offence to publish their identity.
A spokesman for the Police Service of Northern Ireland (PSNI) told the Irish Independent two people had been interviewed in relation to an offence under Section 5 of the UK's Sexual Offences Amendment Act 1992.
The spokesman said the investigation was ongoing and two files had been forwarded to the Public Prosecutions Service for consideration.
The paper also carries a warning from the solicitor acting for Stuart Olding.
He said action will be taken against social media users who defame his client.
The Daily Mirror leads with protests which took place on Thursday in solidarity with the woman who claimed she was raped.
It reports that thousands took to the streets in "fury" following the not-guilty verdict.
In the News Letter, tributes have been paid to former BBC Northern Ireland broadcaster Adam Coates, who has died aged 76.
"He is remembered fondly for his warm personality, droll humour and obvious ability as both a sports broadcaster and writer," the paper reports.
Also in the paper, Irish country singer Nathan Carter has "rocked new mamas" on a maternity ward in Craigavon.
He surprised excited mothers and nurses alike when he dropped in to meet some of the new arrivals.
Dr Gerry Adams, from the Ted Clarke Memorial Trust, said: "We would like to thank Nathan for taking time out of his busy schedule and putting a smile on so many faces at Craigavon."