Seamus Mallon says Good Friday Agreement 'not finished'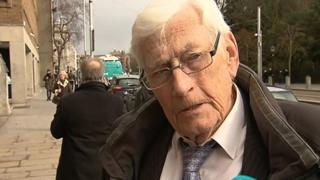 Former Northern Ireland Deputy First Minister Seamus Mallon has said the current stalemate in Northern Ireland does not signal the end of the Good Friday Agreement but a new beginning.
He was speaking in Dublin before taking part in an event to commemorate victims of the Troubles.
The 'Reading of the Names' service was held at Dublin Unitarian Church.
The names of those who died between 1966 and 2016 were read out at the service.
"We have got an agreement, the Good Friday Agreement, some people say it has been damaged, that it is finished. It is not," Mr Mallon said.
"It hasn't yet really begun and I would make a plea that we all, instead of talking about an end to it, that we look upon it as the new beginning."
Northern Ireland has been without a functioning executive since January 2017.
Subsequent talks have failed to restore the power-sharing executive.
The Good Friday Agreement in 1998 was reached after nearly two years of talks and 30 years of conflict, known as the Troubles.