Two men charged after 'huge' £1.3m drugs haul in Dromore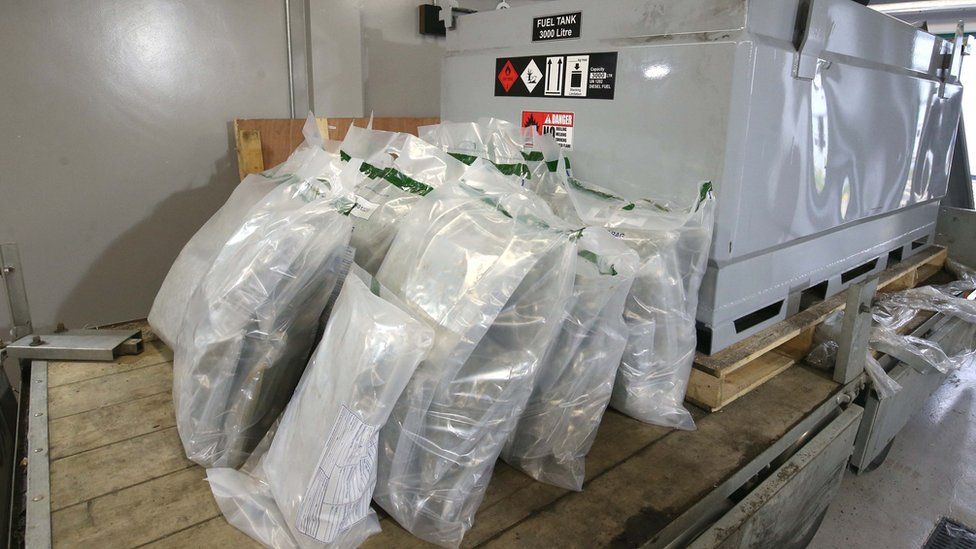 Two men have been charged after the seizure of what police believe could be one of Northern Ireland's biggest ever hauls of herbal cannabis.
The drugs were found hidden inside an industrial-sized fuel tank at a property in Dromore in County Down.
The haul is estimated to be worth about £1.3m.
It was discovered as part of a joint investigation involving the Police Service of Northern Ireland (PSNI), An Garda Síochána and customs officials.
Police also carried out a number of follow-up searches at other locations.
The drugs are believed to have entered Ireland at Dublin Port.
The men, aged 32 and 37, have been charged with fraudulently importing class B drugs, possession of drugs and possession of drugs with intent to supply.
They are due to appear at Newry Magistrates' Court on Monday.
Det Supt Bobby Singleton of the PSNI described the find as the largest seizure of drugs "for some time".
He said that the Irish authorities shared information about the drugs with the PSNI.
"We were then able to mount a policing operation here in the north and make a successful intervention to seize what we estimate to be somewhere in the region of £1.3m of drugs," he said.
Det Supt Singleton said the drugs would have been broken up and sold all over Ireland if it had not been found.
"We had seen a shift in terms of the trend around importation, from large load to smaller and more frequent attempt to bring drugs in," he added.
"So it really is quite different and quite significant for us.
"What I think is really powerful about it is the fact that this is the result of collaboration between ourselves, An Garda Síochána and the Irish customs authorities.
"That's absolutely vital in order to help us tackle organised crime on the island of Ireland."
Assistant Chief Constable Stephen Martin said the find had "undoubtedly prevented the significant harm that would have resulted from this huge consignment of drugs reaching the streets" across Ireland.
A 78-year-old man and three women - one aged 42 and two aged 68 - were also arrested as part of the police operation and were later released on bail.