Nine people arrested at illegal Easter parade in Lurgan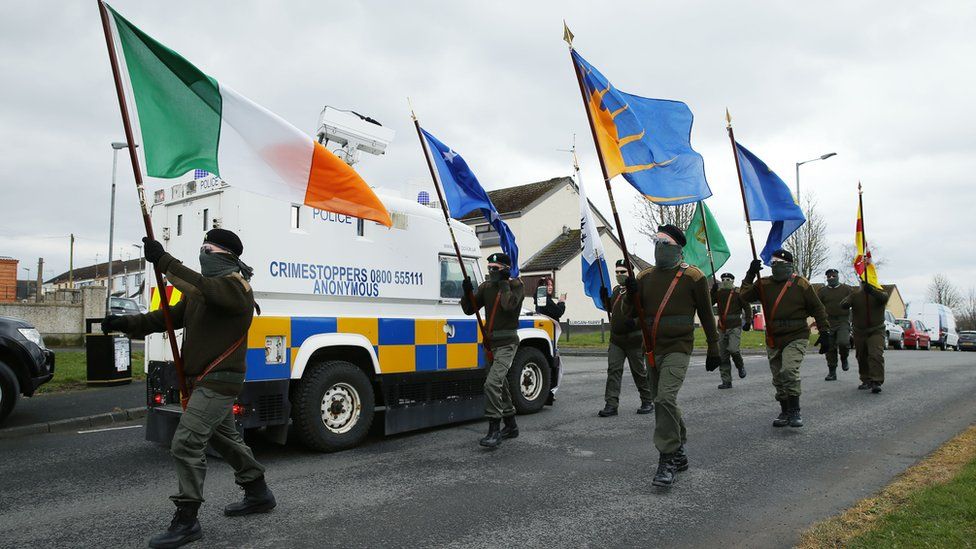 Police have made nine arrests at an illegal Easter parade in Lurgan in County Armagh.
Eight masked men dressed in paramilitary-style uniforms were arrested for taking part in an the march on Levin Road shortly after 13:00 BST on Saturday.
A ninth person was arrested on suspicion of assaulting a police officer and obstruction.
A woman was injured during the disturbance and was taken to hospital.
The march is understood to have been organised by Republican Sinn Féin.
Ch Insp Jon Burrows of the Police Service of Northern Ireland (PSNI) said those who take part in unnotified parades "do not represent the majority of people who live in north Lurgan".
"Many of those who participate in this event every year are not from the local community," he added.
"The police have attempted to engage with members of this group, advising them to comply with their legal responsibilities in relation to processions."
He added that a "significant number of people" have been prosecuted in relation to the annual march in Lurgan in previous years.