Northern Ireland boy killed in Tenerife hit-and-run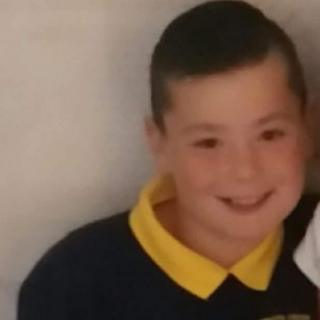 A nine-year-old County Antrim boy killed in a hit-and-run incident in Tenerife has been described as "gentle and caring".
Carter Carson, from Newtownabbey, was leaving a shopping centre with his family in Adeje on Thursday when he was struck by a car.
He died in hospital on Friday. Two men have been arrested.
A car believed to have been involved was found abandoned a few miles from the scene.
Carter was a P5 pupil at Abbots Cross Primary School in Newtownabbey.
In a statement, the school said: "Carter was a quiet, hardworking boy with lovely manners and a gentle, caring nature.
"He loved a game of football and was an enthusiastic member of our school running club and our football club.
"He was recently awarded star pupil of the month and no-one had a bigger smile than Carter when he received his star pupil award.
"The relevant agencies are working with the school to ensure that appropriate support is put in place for our pupils, parents and teachers as we try to deal with losing Carter in these tragic circumstances."
Newtownabbey Youth Football Club, where Carter played, posted a tribute to its Facebook page.
"It is with deepest condolences and heavy hearts we as a club are saddened to hear of the tragic passing of young Carter Carson this morning.
"Our thoughts and prayers are with his family and his friends at the club. YNWA."
The chairman said Carter had been playing football since he was five years old and that the whole club was "heartbroken."
In a statement. the Foreign and Commonwealth Office said: "We are providing assistance to the family following the tragic death of a British child in Tenerife."