Petrol bombs thrown at PSNI during dissident republican parade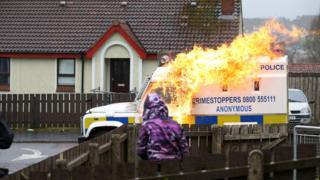 Petrol bombs and stones have been thrown at police vehicles during an illegal dissident republican parade in Londonderry.
About 200 people attended the Easter Rising 1916 commemoration parade in the Creggan estate on Monday.
They were led by masked men in paramilitary-style uniforms. The parade began at 14:00 BST, making its way to Derry City Cemetery.
There are no reports of injuries or arrests.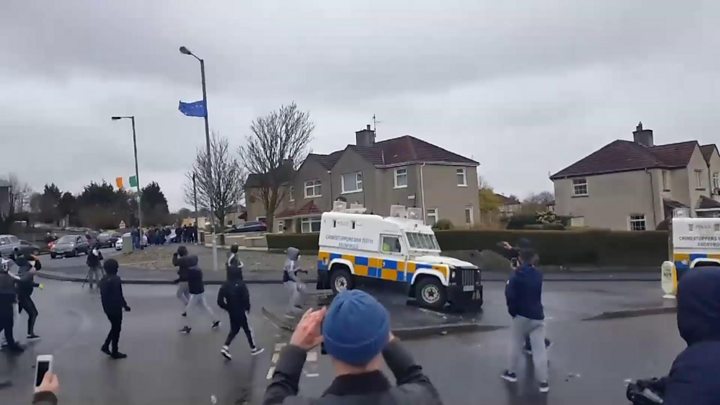 Ch Insp Ivor Morton said the police had tried to engage with the organisers over a period of time to "facilitate their event within the law," but they declined to enter any discussions.
"The organisers also stated in the run-up to today's event they were informed by police the parade would be stopped and would not be allowed to go ahead.
"This was patently untrue and can only be viewed as an attempt by those behind the parade as a bid to raise tensions in the area," he added.
Sinn Féin's northern leader Michelle O'Neill said that while "everyone has the right to remember their dead" the scenes were "disturbing".
"Masked individuals causing disturbance, youths throwing petrol bombs is far from dignified," she added.
She said those responsible should be "brought before the law".
The Northern Ireland Policing Board said it was "disgraceful that (police) officers were attacked with petrol bombs and other missiles today".
---
At the scene: Sean O'Halloran, BBC Radio Foyle
Tensions were high after a number of arrests during a similar parade in Lurgan over the weekend.
PSNI Land Rovers at either end of Central Drive in Creggan warned those gathered to call a halt to the display before being attacked by about 20 youths, many with their faces covered.
Petrol bombs, stones and sticks were used to to force the police back as the parade successfully made its way to the city cemetery greeted by a flute band.
A number of speeches were then made.
---
DUP Foyle MLA Gary Middleton said Monday's events were "disgraceful".
He added: "People in paramilitary-style uniform is wrong and the continued glorification of terrorism is abhorrent.
"Nobody has a desire to see the violence on display today, except for barbaric thugs intent on endangering life and property.
"I hope the actions of all involved are investigated and those responsible feel the full weight of the law."