Victims Forum member resigns over ex-IRA man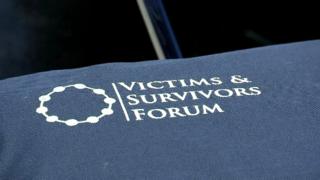 A member of the Victims and Survivors Forum has resigned after discovering another member had previously served prison time for IRA bomb offences.
Jackie Nicholl's resignation was initially reported in Saturday's edition of the News Letter.
Mr Nicholl's 17-month-old son Colin was murdered by the IRA in a bomb attack on a Belfast furniture shop in 1971.
He resigned after finding out that fellow forum member Robert McClenaghan was a convicted IRA bomber.
Mr McClenaghan's grandfather was one of the victims of the UVF McGurk's Bar bombing in 1971.
Mr Nicholl said he had become friendly with Mr McClenaghan while serving with him on the forum.
However, he said he had been approached by someone five weeks ago and made aware of Mr McClenaghan's IRA past.
"To be honest I was completely gutted," Mr Nicholl said.
"I could not sit down with someone who had carried out a similar thing on behalf of the IRA that had murdered my son. I couldn't do that."
In a statement, the Victims' Commission said: "All members were made aware of the inclusive nature of the Forum and that its task is to engage in dialogue with all those affected by the conflict, regardless of background or personal history."
It added: "The commission also recognises and respects that individuals may choose to withdraw from this challenging and time-intensive role and anyone who does take this course of action will continue to have the respect, thanks and support of the commission and forum."