DUP MLA apologises for Sadiq Khan retweet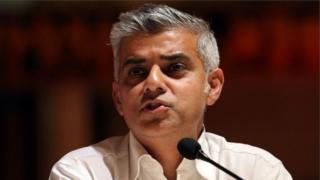 The DUP MLA Maurice Bradley has apologised for retweeting a message calling the Mayor of London the "enemy within".
The tweet attacked Sadiq Khan over refusing to support a total ban on Hezbollah.
It comes after Mr Bradley's party colleague Ian Paisley apologised for sharing an anti-Islam message.
Mr Bradley has since shut down his Twitter account.
"I removed earlier RT and apologise for it," he said.
"I disagree with Sadiq Khan's approach to Hezbollah - brutal terrorist apologists.
"The mayor has a democratic mandate and his religion is irrelevant."
In a statement, the DUP said the post did not represent the party's views.
"This matter will be considered by the party officers," it said.
The Labour MP John Grogan called the tweet "deeply offensive".
He told the BBC's Good Morning Ulster programme the original tweet was about "something said in the London Assembly about Hezbollah".
"Mr Khan followed government policy which is to ban the group's military wing but not to ban their political wing," he said.
Mr Grogan, who sits on the Northern Ireland Affairs Committee at Westminster, welcomed the apology from Mr Paisley and said he hoped Mr Bradley would also apologise.
South Belfast MLA Claire Hanna said the DUP had a "massive problem".
She said: "This shows a total failure to accept that other people are different to you."
Ulster Unionist party MLA Doug Beattie also questioned the retweet. He said that "some people are using rhetoric which is totally unacceptable".
Earlier, Dr Wasif Naeem, from the Islamic Centre of Belfast, said he had been contacted by Mr Paisley after he was invited to meet members of the Muslim community.
"They are our MPs, they are are our leaders as well and it was very distressing to see those kinds of messages," Mr Naeem said.
"People were feeling quite anxious and quite worried, but now we are happy to tell people that he has apologised and we can move on."