New car sales in NI fall almost 17%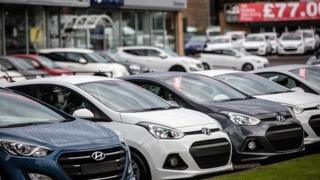 Sales of new cars in Northern Ireland fell by almost 17% in March compared to the same month in 2017.
That is broadly in line with the UK as a whole.
However the figures are likely to be distorted because March 2017 was a record month as customers bought new vehicles ahead of a change in Vehicle Excise Duty.
Sales of new cars in Northern Ireland reached a 10-year high in March 2017, with 8,556 new cars registered.
This compared with 7,122 cars registered in March 2018.
On the year-to-date measurement, sales in Northern Ireland are down by 9% compared to a 12% fall for the UK as a whole.
The figures are compiled by the Society of Motor Manufacturers and Traders (SMMT).
Mike Hawes, SMMT chief executive, said: "March's decline is not unexpected, given the huge surge in registrations in the same month last year.
"Despite this, the market itself is relatively high with the underlying factors in terms of consumer choice, finance availability and cost of ownership all highly competitive."