NI paper review: McGregor custody and bonfire dispute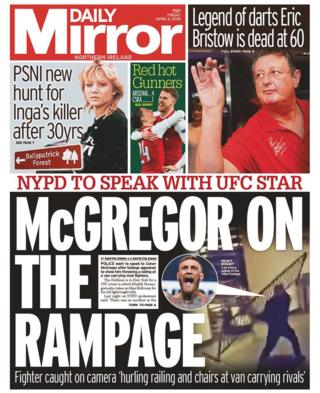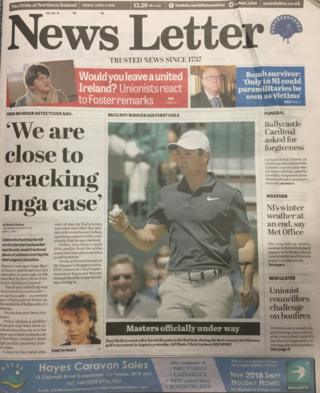 Progress by police investigating the murder of a German backpacker in Northern Ireland 30 years ago leads three of the daily papers on Friday.
Inga Maria Hauser was 18-years-old when she went missing.
She arrived in Larne on a ferry from Scotland on 6 April 1988, but her body was found two weeks later in a remote part of Ballypatrick forest in Ballycastle, County Antrim.
No one has ever been convicted of her murder.
The Daily Mirror contains pictures of the teenager, her backpack and the scene where she was found.
The News Letter reports that PSNI have uncovered male DNA from the crime scene but have not yet found a positive match.
Det Ch Supt Raymond Murray said police believe there are "a small number of people in the community who are protecting those who are involved through some sort of misplaced loyalty," according to the Belfast Telegraph.
'Sad but no surprising'
The front page of the Irish News reads "Brexodus?", and features an image of comedian Patrick Kielty and former first minister Arlene Foster.
The still is taken from the BBC documentary, 'My Dad, the Peace Deal and Me,' which was presented by Kielty, and marks 20 years since the Good Friday Agreement.
During an interview, the DUP leader told the comedian that if there was ever to be a border poll that resulted in an united Ireland, she would "probably have to move".
Ms Foster's comments have been met with criticism by some politicians, including Alliance Party leader Naomi Long who said it was "sad, but not entirely surprising".
Meanwhile Ulster Unionist leader, Robin Swann, told the paper: "This is my home. It is the only home I have ever known and I will not be leaving it."
Crowdfunded advert
The front page of the Belfast Telegraph features a report that "concerned fans" have paid for an advert in the paper to call for two rugby players "to be axed".
Almost 140 people are believed to have donated money to the advert aimed at Ulster and Ireland internationals Paddy Jackson and Stuart Olding.
Both men were acquitted of rape last month following a nine-week trial.
The advertisement in the Telegraph says the content of the social media exchanges between the players revealed in court, was "reprehensible".
It adds, "such behaviour is beneath the standards" represented by the IRFU and Ulster Rugby and calls for "neither of these men" to represent the organisations "now or at any point in the future".
'Discriminate Protestants'
Unionist councillors in Mid-Ulster are to launch a legal challenge over a bonfire permit scheme, reports the News Letter.
The bonfire policy means that the council will only consider a bonfire to be allowed on council land if organisers can ensure "certain conditions are met" - including not collecting, storing or burning toxic or hazardous materials, or burning flags or emblems.
Eight DUP members are understood to have pushed for a council 'call-in', which will see a lawyer examine the legality of the licensing system.
In a letter to the council, the party said the bonfire policy would have a "direct discriminatory impact on Protestants".
McGregor and the NYPD
Police in New York have said they want to speak to MMA star Conor McGregor after footage appeared of him allegedly caused havoc at a hotel with his entourage.
It happened ahead of this weekend's UFC 223 event in New York. McGregor is not competing in the event, but is supporting his teammate Artem Lobov.
The footage appears to show the Dubliner attempting to grab a guard rail, then a waste bin, before being stopped by UFC security staff.
The Daily Mirror reports that the NYPD said: "Conor McGregor is not under arrest and there is no warrant out for his arrest yet, but we want to speak to him over an assault that took place."
Since the NYPD issued their statement, the Irishman voluntarily turned himself in, and is in custody in Brooklyn.
Troubles through a lens
A new photography exhibition capturing the "desolation and destruction of the Troubles" also features in the Irish News.
The display will be on show at Belfast's Linen Hall Library from Tuesday 10 April until the beginning of May.
There are around 40 images in the collection which were taken by Newry-man Sean Hillen between 1979 and 1990.
He told the paper that he felt "increasingly compelled" to take the photographs to "distil some record" of what he saw.