NI cities' Capital of Culture 2023 bid 'no longer viable'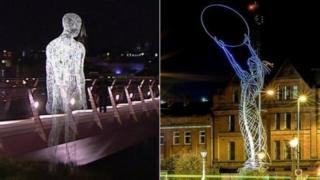 Any attempt to have Belfast and Londonderry's joint bid to become the European Capital of Culture in 2023 reinstated is "no longer viable".
The European Commission (EC) had previously ruled that a UK city could not host the title after Brexit.
Subsequently, efforts had been made to get the commission to reverse that decision.
However, a Belfast City Council briefing said that is "no longer an option".
Instead, the council is to consider delivering an alternative cultural programme in 2023 which will include elements of the original bid.
Some details are contained in a briefing paper to be discussed by the council's city growth and regeneration committee on 11 April.
It said that delegations from Belfast and Derry and Strabane councils held a number of meetings to try to get the EC to change its decision.
"The position of all bidding cities was that the preferred outcome of these discussions should be the reinstatement of the competition," the briefing said.
"A delegation from Belfast City Council and Derry City and Strabane District Council travelled to Brussels to meet with the European Commission.
"Meetings were also held with representatives from the Committee for Regions and the UK permanent representation to the EU.
"These meetings further confirmed that pursuing the 2023 UK competition for European Capital of Culture was no longer an option."
However, the briefing said that the councils were still querying whether Belfast and Derry could hold the European Capital of Culture title at any point after 2023.
The document does not include any estimate about how much an alternative cultural programme for 2023 might cost, but said that a business plan and funding strategy would be developed.