Stormont impasse 'disgraceful' says Fianna Fáil TD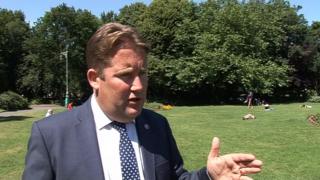 An Irish politician has described the failure to agree power sharing in Northern Ireland as "disgraceful".
Darragh O'Brien, Fianna Fáil, said the Good Friday Agreement mechanisms should be used to strengthen the British/Irish relationship after Brexit.
Mr O'Brien, the party's spokesperson on foreign affairs, told Radio Ulster's Inside Business on Sunday that new relationships should be forged.
He suggested that a council of ministers might prove the solution.
"We have got to look to use the Good Friday mechanisms under the Good Friday Agreement much much better," he said.
"They have been left to die on the vine for the last five or six years and there's a responsibility in the north, an absolute responsibility, that the executive is re-established, that the assembly is re established.
"One of the most disgraceful abrogations of responsibility I have ever seen is that there is a block of people in the north who are not being represented by the people that they elected because of the two main parties."
The TD said this could and should be resolved.
"I earnestly hope that it is resolved very shortly," he said.