Petition calls for Jackson and Olding to be reinstated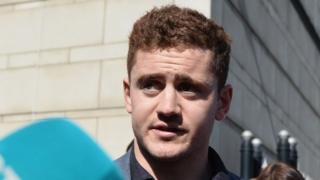 An online petition calling for Ulster Rugby to reinstate Paddy Jackson and Stuart Olding to the team has gathered thousands of signatures.
Mr Jackson and Mr Olding were both acquitted of rape after a nine-week trial that ended last month.
They remain suspended from playing while the IRFU and Ulster Rugby carry out a review.
The Change.org petition says they should "be reinstated to the Ulster Rugby squad as soon as possible".
The petition is entitled: "Get Paddy Jackson and Stuart Olding back playing for Ulster Rugby."
It adds: "They have already been forced through a very public trial and been suspended from playing throughout this trial. This is punishment enough and Ulster Rugby should be showing support to their players who were found not guilty.
"If Ulster Rugby need to enforce to these players how behaviour in their private lives may affect their career as rugby players then this should be stated clearly to the players as a warning not to repeat such behaviour again as it will carry consequences for themselves and others such as what they have gone through.
"However, these players have not broken any sporting rules and therefore, need to be back playing in Ulster shirts as soon as possible."
As of 12:30 BST on Monday the petition had received more than 5,500 signatures.
Last week, campaigners took out a full-page advert in the Belfast Telegraph newspaper, calling for Mr Jackson and Mr Olding to be dropped by Ulster and Ireland.
They describe the players' message exchanges - containing explicit sexual terms about women - that emerged during their trial as "reprehensible".
"We demand that neither of these men represents Ulster or Ireland now or at any point in the future," the advert stated.
Another online petition calling for the IRFU to "conduct a thorough review" of the players' behaviour and to make the findings public has received more than 67,000 signatures.
On Friday, Mr Jackson told the Press Association that he was "truly sorry for engaging in a WhatsApp group chat which was degrading and offensive".
Meanwhile, the Ulster Rugby Supporters' Club (URSC) has issued a statement in regard to last week's newspaper advertisement calling for the players to be dropped.
It said the advert was signed by 139 people "purporting to be concerned fans".
"The URSC can confirm that it had no part in this advertisement and doubts that any of the 139 who contributed financially to this advertisement are amongst its membership," it said.
"The URSC can further confirm that it has received no calls from its membership for the aforementioned players to be banned from playing for Ulster, on the contrary, the vast majority of members have made it clear they wish to see their early reinstatement to playing duties.
"Indeed many have made it clear that if this is not the case it will strongly influence their decision on season ticket renewal or their future Kingspan attendance."
In a further development, Irish senator Aodhán Ó Ríordáin has apologised over a tweet he sent after the rape trial verdicts were delivered.
Last month, it was reported that Mr Jackson's legal representatives were suing Mr Ó Ríordáin over the tweet he posted on 28 March and later deleted.
On Monday, the senator tweeted that he had not "intended to suggest that either Paddy Jackson or any of the other accused men were guilty".
"I apologise for any suggestion to the contrary," Mr Ó Ríordáin wrote.