'I was fed to the crocodiles' says DUP's Jim Wells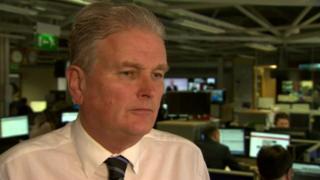 A DUP MLA has said he expects the party to take disciplinary action against him after he launched a strong attack on the leadership.
Jim Wells claimed the party went back on a promise to re-appoint him as health minister after he resigned in 2015.
The MLA says he was falsely accused of linking child abuse to same-sex marriage.
Mr Wells accused party leader Arlene Foster of not standing by him.
"Peter Robinson made the commitment that I would return," the South Down MLA said.
"Then Arlene took over as leader and Arlene, as leader of the party officers, ignored my two written requests for that commitment to be honoured," he added.
'Old-fashioned views'
Mr Wells said that deputy leader Nigel Dodds was sent to tell him that he would not be reinstated.
In a Belfast Telegraph interview he said the party wanted to get rid of him because of his "old-fashioned, traditional" views on matters such as same-sex marriage and abortion.
Later in interviews for BBC News NI he said: "I suspect I was an embarrassment to them.
"I'm very extreme on protecting the unborn child and very extreme on protecting traditional marriage and I got the impression the party wants to move on, to become more inclusive and more modern.
"I feel I was fed to the crocodiles. I feel I was hung out to dry but not by the party as a whole but by certain individuals."
Mr Wells added he remains a loyal supporter of the DUP and its leader, singling out Mrs Foster's work on Brexit for praise, and adding he has received widespread support from party colleagues in Stormont and at council level.
He said he now believes the DUP will try to have him deselected from his South Down constituency.
A DUP spokesperson said, "We are aware Jim has made some comments. As these are internal matters we have no further comment to make at this time."