Willie John McBride calls for Ulster rugby players' return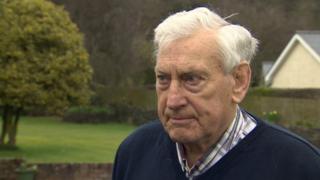 An Irish rugby legend has said that Paddy Jackson and Stuart Olding should be allowed to get back to their sporting careers.
Former Ulster and Ireland captain Willie John McBride was speaking following the Belfast rape trial in which both men were acquitted.
"At the end of the day, they were not guilty," Mr McBride told the BBC.
In a separate development, a newspaper advert has called on Ulster and Irish rugby to reinstate "innocent men".
The full-page advert in Wednesday's Belfast Telegraph was signed by "real fans standing up for the Ulster men".
Mr McBride told the BBC that the two men should be allowed to play for their province and country again.
"I hope that the Ulster authorities and the Irish authorities allow these guys to do what they do best - and that's playing rugby," he said.
Mr McBride said he was "sorry to see that there are some people who want to deny them the opportunity and take away their livelihood".
This was "very sad and wrong," he said.
"I know Ulster Branch and the Irish Rugby Union are having a review of the situation. I think they should obviously be reprimanded. They have apologised and have issued their regrets for everything that happened," he said.
"But I think there are all sorts of things involved in their professional world now like sponsors and people like that. I think they should apologise to them.
"I think they have huge regrets about what happened and I don't think this will happen again."
No names are mentioned in the Belfast Telegraph advert, but Ulster players Stuart Olding, Paddy Jackson and Craig Gilroy are currently relieved of their duties.
Rugby officials are investigating their conduct following the recent rape trial involving Mr Olding and Mr Jackson.
Both men were found not guilty of the charges they faced.
They had been accused of raping the same woman in June 2016 and their acquittal came after a nine-week trial.
An internal review of the player's conduct by the IRFU (Irish Rugby Football Union) could not begin until the rape trial was concluded: Both players are suspended until that review is completed.
The men's teammate Craig Gilroy has also been made unavailable for selection after an offensive message he sent to Mr Olding was referenced in the trial.
'Social media backlash'
The latest advert claims "the extent of the social media backlash aimed at incriminating men unanimously acquitted of any crime" was "reprehensible".
"We are fed up with this cyber-persecution," it states, alluding to the fallout from the trial with some people on social media demanding that neither Mr Olding nor Mr Jackson be allowed to play for Ireland or Ulster again.
The advert calls for the players to be "rightly allowed to resume their roles for both club and country".
"The IRFU should take note of the silent majority and not bow to the court of social media," it says.
"We do not expect an answer to this letter, but we do expect them to play."