Relaunch for 'older teachers' replacement scheme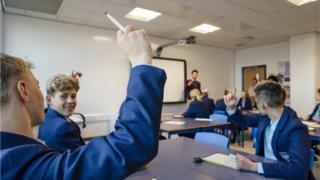 A controversial Department of Education (DE) scheme to replace older teachers with more recently-qualified ones has been relaunched.
The Investing in the Teaching Workforce scheme aims to allow up to 200 teachers over the age of 55 to retire early in 2018/19.
They will be replaced by teachers who have graduated during or since 2013.
DE said that it had received £8.8m from the public sector transformation fund to pay for the scheme.
The Investing in the Teaching Workforce scheme was originally announced in 2015 but was delayed by disagreements over the criteria and a legal challenge.
That legal challenge was dismissed in May 2017 and a pilot scheme went ahead in November 2017.
However, only 31 posts were created as a result of that pilot, significantly fewer than the 500 jobs envisaged when the scheme was originally announced in 2015.
DE has now said that it anticipates up to 200 teachers aged 55 and over will be released by the end of March 2019.
They are expected to inform their school's board of governors in the first instance if they wish to retire under the scheme.
Before they are allowed to go, they must be replaced in post by a teacher who qualified during or since 2013 and does not have a permanent job.
DE said that teachers who had qualified "in the years 2013 up to and including 2017 have experienced the greatest difficulty in securing meaningful employment."
Jobs created under the scheme are likely to be advertised later in 2018.
However, as 2018/19 is scheduled to be the final year of the public sector transformation fund, it is unclear if the scheme will operate again in 2019/20