Councillor caught drink-driving breached code of conduct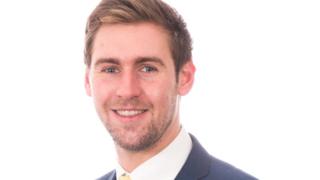 An Alliance Party councillor on Newry, Mourne and Down District Council has been suspended for six months after being convicted of drink-driving.
Patrick Brown pleaded guilty after he was caught riding his motorbike under the influence of alcohol in March 2017.
In January, he referred himself to the local government standards watchdog for investigation.
He is only the fourth councillor in Northern Ireland to have breached the local government code of conduct.
Imposing the sanction, the Local Government Commissioner for Standards Marie Anderson said that as the councillor's conduct had resulted in a criminal conviction it had brought both his position and his council into disrepute.
'Error of judgement'
The commissioner added that his actions were likely to have "diminished the trust and confidence of the public", and that any reasonable person, knowing all of the facts, would have come to the same conclusion.
Mr Brown was fined £250 and disqualified from driving for a year but the disqualification was reduced after he completed a drink-driving offenders' course.
He was found to have breached part 4.2 of the code, which states that a councillor must not conduct themselves in a manner which "could reasonably be regarded as bringing your position as a councillor, or your council, into disrepute".
In a statement, Mr Brown said his actions on the night were "a complete error of judgement and entirely out of character for me both as a person and a public representative".
"I am thankful no-one was hurt as the result of my stupidity and I make no excuse for my actions on the night in question. I have learned from this experience, will never repeat it and will use it to warn others never to do the same," he added.
The Alliance Party said it believed Mr Brown had "shown true contrition for his actions and a willingness to atone for his conduct" by referring himself to the commissioner and going through internal party disciplinary procedures.
"Patrick has taken full responsibility for his actions. We believe he has learned from this experience and should be able to continue to represent his constituents in future as he did before and during this episode," the statement added.
Mr Brown's suspension from the council will start on 14 May.