Hard border a 'huge concern' for NI fishing industry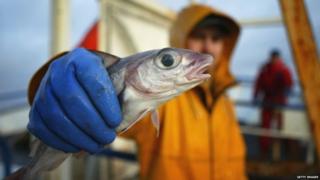 A hard border would be a "huge concern" for the Northern Irish fishing industry, according to the manager of Seafish Northern Ireland.
Dr Lynn Gilmore was speaking during an evidence session at the Northern Ireland Affairs Committee.
The session was the first in a series looking at the impact leaving the EU may have on the fishing industry.
She said "Tariffs and non-financial tariffs" were a fear for the industry because it is a "fresh product."
She added: "It's in even sharper focus when you think of the aquaculture sector who in many cases are exporting a live product.
"Any sort of friction at borders is a huge concern to industry, both in terms of the additional costs and access to market, but also in terms of the ruination of stocks with hold ups at borders."
Dr Gilmore estimates there are 375 fishing vessels operating in Northern Ireland, supporting almost 900 full and part-time jobs for fishermen.
Some 53% of all jobs on those fishing vessels are made up of workers from outside the UK.
Dr Gilmore believes recruiting crew from outside the UK will be a "challenge" post-Brexit.
Northern Ireland received £18m from the European Maritime and Fisheries Fund (EMFF) from 2014 to 2020.
It is used to fund things like harbour improvements, safety training for crew and improvements to selective fishing gear.
Dr Gilmore said the investments have been "absolutely crucial" to fishing communities and what will replace that funding should be at the forefront of discussions.