Sir John Gillen to lead serious sex crimes review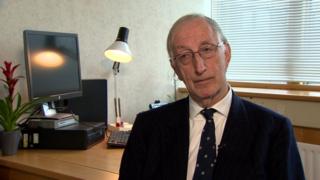 A retired appeal court judge is to lead an independent review into how the criminal justice system in Northern Ireland deals with serious sexual offence cases.
The review will be led by Sir John Gillen.
It follows a wide-ranging public debate prompted by the trial of two Ulster Rugby players, Paddy Jackson and Stuart Olding, and two other men.
Mr Jackson and Mr Olding were acquitted of rape.
The verdict came in March after a nine-week trial.
Sir John met with representatives of victims' groups at the Justice Department at Stormont on Tuesday morning to discuss the scope of the review.
The review is expected to examine issues such as the disclosure of evidence and the level of support provided to complainants, victims and witnesses.
It will also cover measures concerning anonymity - including issues around ensuring the current anonymity granted to complainants and whether anonymity should be extended to defendants, as per the system in the Republic of Ireland.
The review is also likely to consider the nature of reporting restrictions in such cases and the arrangements for attendance by the public at trials involving serious sexual offences.
Sir John said that the "issues that are being discussed in this review have been around for some time".
Timeframe
He said that it would be a "balanced inquiry, an inquiry that looks not only at the complainants but also at the rights of the accused as well" and that the review would look at how other jurisdictions deal with serious sexual offence cases.
"I have absolutely no doubt the system that operates in the Republic of Ireland will be closely considered by myself and the advisory panel who will be acting with me," he said.
Sir John also said that he hoped changes could be implemented despite the current lack of a devolved power-sharing government at Stormont.
"There's no doubt that some of the changes that may be envisaged will involve legislation.
"But I'm hopeful that the powers that be, would take the necessary steps at the appropriate time to introduce the relevant legislation."
Advisory panel
He added: "There are two aspects to this review - one will be those changes that may require legislation but, two, those changes that may be introduced fairly quickly into the actual process itself."
Sir John will be supported by an advisory panel, which will include victims representatives, academics and legal practitioners.
It will be asked to report to the Criminal Justice Board by January 2019.
The Criminal Justice Board is currently chaired by the Justice Department's permanent secretary and includes the lord chief justice, the PSNI's chief constable, the director of public prosecutions and senior officials from the Justice Department.