Operation Mincemeat: The part played by a man from Belfast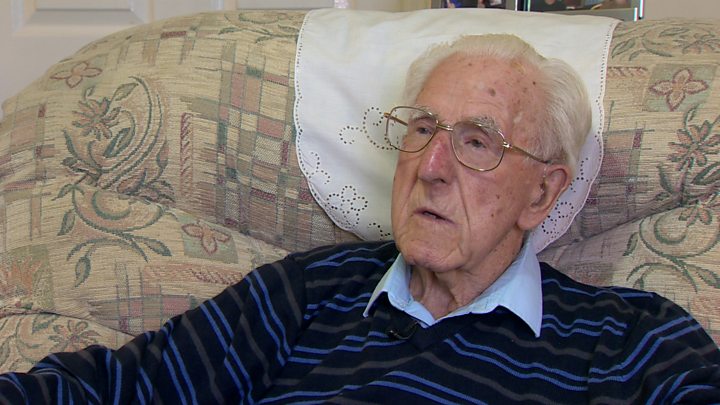 In April 1943, a sardine fisherman off the Spanish coast spotted the corpse of what looked like a British army officer floating in the sea.
This discovery ignited a train of events that would change the course of World War Two.
Operation Mincemeat was among the most successful wartime deceptions ever attempted and it undoubtedly saved thousands of lives by hoodwinking the Nazi high command into thinking the allies were about to invade Greece instead of Sicily.
Now a little-known part played by a man living in the outskirts of east Belfast can be told.
Ted Ross was a young RAF wireless operator at the time of Operation Mincemeat - a cunning plan which involved dressing a corpse in the uniform of an army officer with a briefcase of secret documents handcuffed to his wrist and then putting the body into the water from a submarine off the coast of Spain.
Ted was the last man to speak to "the man who never was" when he was ordered to transmit a message from his RAF base in Gibraltar to an allied aircraft supposedly carrying the fictitious army officer.
"I received a signal in the form of a hand-written message," he explained.
"It read that if I heard an SOS being transmitted I was to respond in this manner in Morse code - RRR SOS SEND POSITION COURSE AND SPEED."
Operation Mincemeat:
Operation Mincemeat, launched in 1943, was one of the most successful wartime deceptions ever attempted.
Masterminded by Charles Cholmondeley and Ewen Montagu, the plan involved the dead body of a tramp and a plethora of faked documents.
By convincing the Germans that the Allies planned to attack Greece instead of Sicily, they helped change the course of World War Two.
The allies knew the Germans were listening in on their communications and the Morse message from Gibraltar would add to the other bits of the giant jigsaw building up an entirely false cover story which convinced the Nazi generals that the allies were going to invade Greece not Sicily.
Ted was suspicious of the message because, after transmitting his response, the "aircraft" sent back continuous tone which they did when ditching so a fix could be got on their position.
An RAF rescue boat was later seen leaving Gibraltar but when Ted checked with one of crew who was a mate, he discovered it just a routine coastal patrol, not a rescue.
Peter Forbes, who is a friend of Ted's with a keen interest in war stories says what he did was important in convincing a Nazi spy in Spain that the body washed up was really a British officer and not the corpse of a homeless tramp who had died after eating rat poison in Britain.
'Soft underbelly'
"It helped save thousands of lives because the Germans withdrew a lot of their troops from Sicily," Peter said.
"It was left not as heavily guarded as it was before.
"So when the Allies invaded Sicily to get at the soft underbelly of Europe they did so a lot easier and a lot quicker. So thousands of lives were saved by Ted's actions."
The story of operation mincemeat inspired a movie in the 1950's "the Man Who Never Was" and numerous books over the years but Ted's part in this top secret operation has only recently come to light.
'Proud'
No plane crashed into the sea, nobody was killed but the Nazi generals bought it, falling for one of the biggest cons in military history and this 96 year old veteran was glad to be part of it.
"Well I was quite pleased with what I did.....Oh yes yes, I'm proud of what I did," he said.