£17m Newry business park yet to attract tenant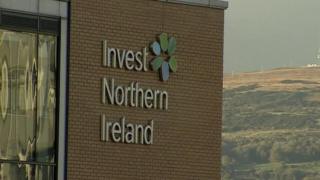 A £17m business park opened by Invest NI on the outskirts of Newry in 2013 has yet to attract a single tenant.
The 22-acre facility is located at Carnbane, just yards from the main Belfast-Dublin road.
It was due to be the first phase of a larger investment at the site.
In 2011, then enterprise minister Arlene Foster and then environment minister Edwin Poots announced that a £38m business park would be built on 73 acres of land acquired by Invest NI.
Making the announcement, Mrs Foster said the investment would provide "essential business infrastructure".
"The provision of industrial land is an integral part of support for economic development in that it ensures that local and foreign investors have access to the high-quality serviced sites that they need to support the setup and growth of sustainable businesses," she said.
"The facilities offered by this new business park will help Newry continue to develop as an attractive and successful business hub.
"In addition, it will provide a significant boost to the construction sector and associated supply chain as the necessary infrastructure works commence."
To date, only the first phase of the site has been developed.
When asked by the BBC this week if any businesses had been secured for the facility, Invest NI said: "We continue to actively promote Carbane Business Park and have had positive engagement with companies, potential investors and wider stakeholders.
"A company's investment within Carbane Business Park is largely dependent on it securing the necessary funding to purchase a serviced site, develop their facility and achieve relevant statutory approvals such as planning permission.
"All of this can take some time and is outside of Invest NI's control.
"If and when a company decides to locate at Carbane Business Park, this will be formally announced by Invest NI and/or the company."