Castlewellan garden receives international award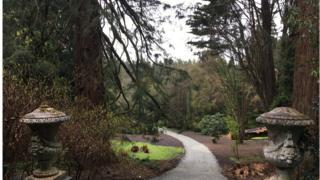 Castlewellan Arboretum and Annesley Garden is the first Irish garden to receive a plaque from the International Dendrology Society.
The society promotes the study of trees and conservation of rare and endangered plant species worldwide.
Its IDS Plaque is awarded to a gardens or dendrological collection of exceptional merit.
Attending the presentation, Suzie Scott of the IDS described Castlewellan as "the most special and wonderful place".
Ms Scott described the County Down site as "the finest collection of trees and shrubs on the island of Ireland".
"It's the jewel in the crown," she said.
"This highlights the importance of maintaining and continuing the garden for future generations.
"We have trees from all around the world here, it is truly global."
Just a few miles from the Irish sea, the gardens are sheltered by the mountains and surrounding woodland and contain a number of rare trees.
Global Warming
It is hoped that the presentation of the plaque will raise awareness of the importance and unique heritage of the arboretum.
As global warming starts to change treescapes, gardens like those in Castlewellan could play a vital scientific role, according to the society.
"Few arboreta like Castlewellan can tell us so much about how a huge variety of trees adapt to climate change," said Ms Scott.
"These special tree collections can also provide important propagation material and be the source of new and useful cultivars."