Unionist MP Lady Sylvia Hermon expects to see border poll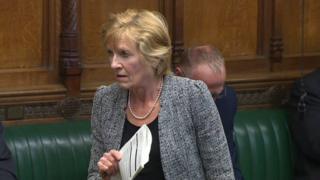 Northern Ireland's only anti-Brexit unionist MP has said she now believes she will see a border poll in her lifetime because of the decision to leave the European Union.
Lady Sylvia Hermon recently said a hard border would see a return to violence in Northern Ireland.
Now she has told BBC NI's The View: "I am worried about the consequences of Brexit.
"In my lifetime I never thought that I would see a border poll and I am now convinced that I probably will see a border poll."
In a wide-ranging interview she also opened up about DUP leader Arlene Foster, spoke about recent criticism from the DUP deputy leader Nigel Dodds who accused her of siding with the Dublin government over Brexit and dismissed DUP claims that her North Down seat was now under threat from them.
On Mrs Foster she said: "I think of what she has come through. I think of the appalling criticism that she received. The videos that were made... this is what I'm saying about social media.
"I've been in this job for 17 years. We used to have things called letters; now we have emails and we have social media.
"For Arlene to have taken the personal criticism that was directed to her and to keep going and keep going I have to say hats off to her for doing that.
"Now I do know that Arlene needs to do more. And I would like to think that in Arlene's heart of hearts she knows she needs to do more.
"We need the assembly up and running this side of the summer. No more shilly-shallying, no more excuses. Let's get the assembly up and running and serve the people of Northern Ireland."
'Keep above the battle'
On Mr Dodds' criticism of her in the House of Commons she said: "I could hear this little voice in my head which I often hear and that is Jack (her late husband Sir Jack Hermon), which he has said to me on other occasions: 'Keep above the battle, keep above the battle'.
"So even though I was really taken aback by what Nigel had accused me of I kept above the battle and continued in the same vein as I had begun.
"I do not like personal attacks. I try to avoid personal attacks on other people. Brexit is very divisive."
On social media and Lord Kilclooney's tweet about Taoiseach Leo Varadkar, she said: "Social media for anyone in politics nowadays makes it even more difficult, which is probably why I stay off Twitter and Facebook and I think there are some other politicians, perhaps one or two inside the House of Lords, who should stay off Twitter too.
"His (Lord Kilclooney's) remarks recently were embarrassing, inappropriate and I'm speaking as someone who likes John Taylor, so I just wish he would retract the remark and apologise and we could move on."
Once Lady Hermon had a parliamentary majority in the thousands, but at the last election the DUP cut that to just over 1,200.
So will she run again?
"Believe it or not when it comes to each election I make my mind up almost on the eve of the election," she said.
"Last year on Easter Tuesday when I had my bag packed and, of course, the House of Commons was going back after the Easter recess, I had a text message from my lovely office manager to tell me that the prime minister had just announced a general election and I thought it was a joke.
"I just couldn't believe that Theresa May would take the risk that, in fact. She would lose eight weeks of Brexit negotiations campaigning and I took me about 30 seconds to make up my mind that I was running I was so annoyed with her."
The DUP says it has now made North Down its number one target seat.
"How long have they been saying that?" Lady Hermon said.
"They've always wanted to win North Down. Of course, they've always wanted to win North Down, but they haven't won it yet.
"Of course it's not inevitable that the DUP will take it, absolutely not. Brexit has and will change everything."