Men jailed for burning car used in John Boreland murder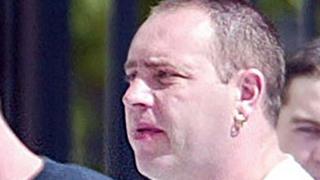 Three men have been jailed for their roles in destroying the getaway car used in the murder of north Belfast loyalist John Boreland.
Mr Boreland, 46, was shot dead outside his home in the Ballysillan area by a lone gunman using a shotgun on the evening of Sunday 7 August, 2016.
Three men who burned a car used by the killers received sentences ranging from four years, nine months to six years.
A judge described the murder as a "cold-blooded assassination".
The three men jailed for perverting the course of justice were Darren George Thomas John McAllister, 35, of Carrs Glen Park in Belfast, 31-year old Thomas O'Hara with an address in Kilburney in Scotland, and Thomas Pearson, 63, from Rathglynn in Antrim.
McAllister was handed a sentence of five years, O'Hara four years and nine months and Pearson four years and six months.
Pearson was handed an additional sentence of one year and nine months on a charge of making property available to terrorists, namely the Renault Megane used by the killers, bringing his total sentence to six years.
The trio were informed they will serve half their sentences in custody, with the remainder spent on licence when they are released from jail.
The court was told the Megane was seen in the Sunningdale area at the time of the murder.
A witness saw the vehicle doing an "aggressive u-turn" before driving towards Mr Boreland's home.
Seconds later, a number of shots were fired, and the victim was found slumped between two cars.
The following day the Megane was picked up on CCTV being driven in convoy with a Nissan Micra.
The court heard the Micra was fitted with an insurance tracking device, which showed it had been driven to Wheeler's Road in the Belfast Hills - the same isolated road where the Megane was found burned out.
Pearson, who owned the Megane, later told police he was approached by people he knew were members of the UDA who told him to provide his vehicle. He left his keys in the ignition on Friday 5 August, and two days later it was used as the getaway car in the murder.
The Megane was then picked up from an "unknown location" and driven to a farmhouse close to Dunmurry where Pearson was working at the time as a painter and decorator.
On 8 August 8, O'Hara drove it away, with McAllister in front in the Nissan. The two cars were driven to Wheeler's Road, where the Megane was burned.
Judge David McFarland said all three defendants had been involved in the "deliberate destruction of a vehicle used in a brutal murder" which removed forensic links which may have helped to apprehend those involved.