Listening out for Fermanagh's 'elusive' curlews
By Louise Cullen
BBC News NI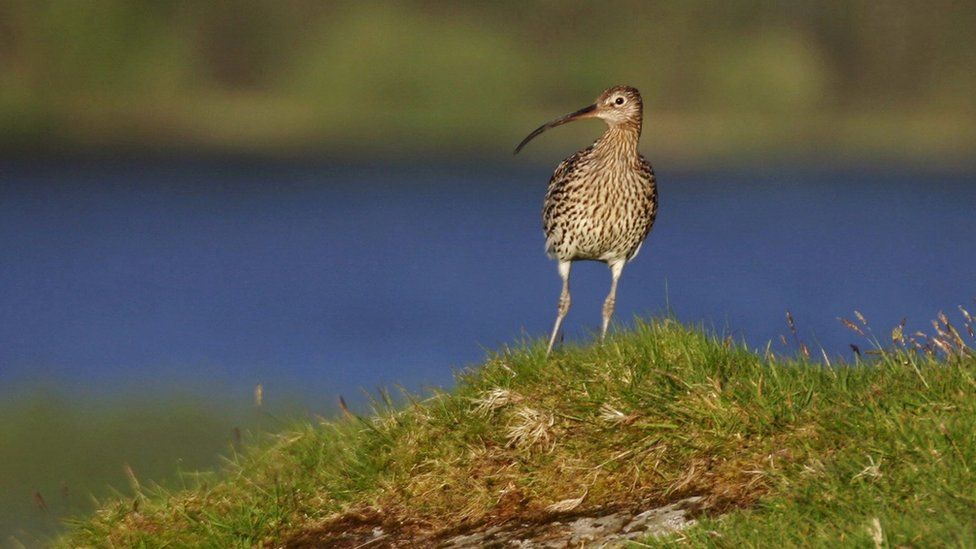 The curlew has inspired poets with its low, bubbling and rising call.
It is sometimes confused with the much bolder gull and whimbrel, but is a much more elusive bird than those brazen show-offs.
That can make monitoring their numbers, which are known to be in decline, that much more difficult.
"Curlew are really struggling within Ireland at present, and their populations have declined by over 89%," said Amy Burns, a Royal Society for the Protection of Birds (RSPB) warden in County Fermanagh.
"It's one of these birds of the farmland, and of the wider countryside and it's very enigmatic.
There are two sites in Northern Ireland where the RSPB keeps the bird under observation during its short Spring breeding season.
One is in County Fermanagh, the other is in County Antrim.
"Fermanagh's quite important, so we hold about 60 pairs of curlew and that's about 10% of the all-Ireland population," said Amy.
"At Glenwherry up in Antrim, they have about 47 or 48 pairs of curlew.
"So, the two sites that RSPB are on are really important for curlew and those sites can be used as areas then that we can populate the countryside with them."
The curlew is partial to a bit of sunshine before its gets down to the business of laying and hatching eggs, which usually happens in April.
But this year, with spring slower to start than usual, things are a little behind schedule.
That should give birdwatchers in County Fermanagh a little more time to watch and listen for them around Horse Island in Lower Lough Erne, as the chicks are only starting to hatch now.
"They'll stay here until they have their chicks reared and they'll use the islands as rearing sites," Amy says.
"When the chicks are big enough to fly themselves, then they all start moving towards the coast for winter."
The Republic of Ireland has set up a curlew taskforce to halt the bird's decline there, believed to be around 97%.
Experts are meeting in Northern Ireland later this year to discuss ways to help conserve the bird here.
But casual observers can play a part too.
"Their call's very distinctive," says Amy. "It's like a low kind of bubbling which rises then and it's very evocative.
"So if people hear that, it might be worthwhile reporting that to the RSPB if they've heard it within the local landscape, somewhere we maybe don't know about.
"And if they think they hear it, don't go out searching for it, because they're very easily disturbed."