Northern Ireland drug offences rise by 20%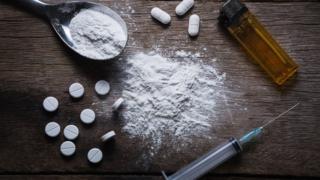 The number of drug offences recorded by the PSNI increased by 20% last year, reaching their highest level since current records began.
There were a total of 6,502 recorded offences in 2017/18, compared to 5,416 the year before.
The PSNI said this "reflects an increase in proactive work in response to community concern about drugs".
Overall the general trends of declining property crime and increasing offences against the person continued.
Sexual offences (3,443) reached their highest recorded level since 1998/99 and were almost three times the level recorded in 2000/01.
Robbery, burglary, vehicle offences and criminal damage all fell to their lowest recorded levels. Vehicle offences were less than a fifth of what they were in 2002/03.
Public order offences (1,107) also saw the lowest level recorded since the peak in 2005/06, the year of the Whiterock riot.
Online crime continues to rise. It accounted for 0.6% of all crimes in 2014/15, 0.8% in 2015/16, 1% in 2016/17 and 1.3% in 2017/18.
Alcohol was a contributory factor in 20% of all crime and in almost half of crimes involving violence against the person.