Former SDLP leader 'confused' over free vote on abortion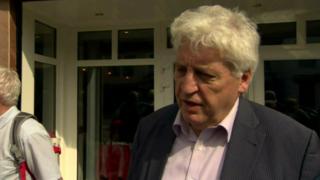 A former leader of the SDLP says he "can't make much sense" of his party's move to give its members a conscience vote on all abortion related issues.
Alasdair McDonnell made the comments after the decision was voted through at a special party conference in Maghera on Saturday.
During the meeting, the party said it also reaffirmed its "pro-life stance".
More than one hundred party members attended the conference.
Mr McDonnell told the BBC's Sunday Politics programme: "I'm a little confused. I mean the SDLP has been and still is a pro-life party.
"But we're opening up that we're pro-life but that you can do your own thing," he said.
"It's certainly an interesting position that I can't make much sense out of."
'Inconsistent'
However his party colleague, Mark Durkan, who also is a former leader of the party, said he supported the move.
"Some people have said that if you allow conscience, you're creating confusion," said the former Foyle MP.
"I think Alasdair is being inconsistent in that concern, because we can't ask other parties to give a right of conscience on a policy like this and not to whip it, and then say 'When it comes to us, we're going to whip it', he said.
"We can't pretend conscience works only one way in this issue.
Mr Durkan added: "It would be entirely dishonest if we simply pretended that reaffirming to ourselves that we're a pro-life party, means that we then have all the detailed, definitive answers to the choices and the vexed issue that are going to be before people in the future.
"We are trusting our legislators with a margin of judgement based on conscience."
Referendum in Republic of Ireland
The special SDLP conference was held less than a week before voters in the Republic of Ireland will decide if they want to make changes to Ireland's strict abortion laws, upheld in the Eighth Amendment of the Irish constitution.
The amendment, which was introduced in 1983, "acknowledges the right to life of the unborn".
In Northern Ireland abortion laws are more strict than the rest of the UK.
An abortion is allowed only if a woman's life is at risk or there is a serious or permanent risk to her mental health.
Rape, incest and fatal foetal abnormalities are not circumstances in which an abortion can be performed legally.