Abortion referendum: Eastwood supports 'yes' vote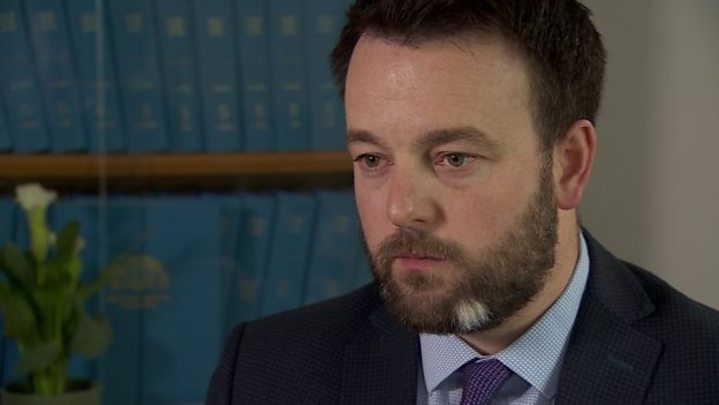 The leader of the SDLP has said he supports a 'yes' vote in the upcoming Irish abortion referendum.
Colum Eastwood said abortion should not be dealt with in the Irish constitution - where the law effectively banning it is currently enshrined.
However he said he does not support proposed unrestricted access to terminations up to 12 weeks gestation.
As it stands, abortions are only allowed if there is a substantial risk to the life of the mother.
Pro-life group LIFE Northern Ireland said it is concerned by Mr Eastwood's comments.
On Friday, voters will decide whether or not to repeal the Eighth Amendment of the constitution, which dictates that.
"I would be pro-life, but I understand that there are very difficult situations that families and doctors have been put in because of the restrictions in the law and I for one want to see people's lives made easier around that," Mr Eastwood told BBC News NI.
"I don't want to see us exporting a problem because we aren't prepared to deal with it ourselves."
Mr Eastwood was speaking after his party voted to allow its members a free conscience vote on all abortion related matters and insisted he is "pro-life".
He said: "I find the 12-week proposal quite uncomfortable, but having the Eighth Amendment is restricting the ability of doctors, legislators and women to deal with those issues."
The Irish government has said, if the Eighth Amendment is repealed, that it will put forward legislation to allow women to access termination within the first 12 weeks of pregnancy.
Beyond 12 weeks abortions would only be permitted where there is a risk to a woman's life or of serious harm to the physical or mental health of a woman, up until the 24th week of pregnancy.
He also said he has confidence that people will vote for change and that he supports a change in the law in Northern Ireland, where terminations are only permitted if a woman's life is at risk, or if there is a risk of permanent and serious damage to her mental or physical health.
Mr Eastwood also hit back at the party's former leader, Alasdair McDonnell, who said he could not "make sense" of his party's move to allow members a conscience vote on abortion-related issues, saying the party's stance was clear and had been agreed.
Marion Woods, spokeswoman for LIFE NI, said the SDLP has "moved away from its civil rights roots".
She added: "It is a sad day... when Northern Ireland has lost a pro-life party and when members of that party, including the party leader, have been so quick to call for the removal of all rights from the unborn child in the Republic of Ireland."