NI Commonwealth Youth Games delay 'devastating'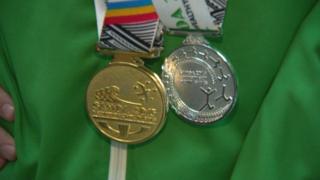 The delay in deciding whether the 2021 Commonwealth Youth Games can be held in Belfast is "devastating", NI Commonwealth officials have said.
The collapse of power-sharing at Stormont 16 months ago meant funding for the games was never signed off.
Last July, a handover ceremony to Belfast was cancelled due to the delay.
Robert McVeigh, chair of the NI Commonwealth Games Council (NICGC), said a decision on the games is now expected to be made in the summer.
He told BBC News NI that continued uncertainty around funding to allow the games to go ahead was "devastating" to his organisation.
'Good facilities'
"I'm at the forefront of meeting with delegates from other places about not hosting these games," he said.
"We have good facilities - we're ready, we should be doing it - but we can't get any progress or movement at all."
While the question mark over the future of the games in Belfast remains, on Wednesday the secretary of state held a dinner marking the achievements of Team NI in the 2018 Commonwealth Games in Australia.
Mr McVeigh said the decision by the secretary of state to hold a reception for the athletes was appreciated, but that it was unfortunate an event could not be held at Stormont.
"It's sad that this is not taking place in Stormont, as it would do in any other part of the UK that has a devolved administration where we would be brought along to meet with ministers," he said.
After the 2014 Commonwealth Games in Glasgow, a reception for the NI team was hosted by the then Sports Minister Caral Ní Chuilín in Stormont's Parliament Buildings.
Approximately 40 Team NI athletes and staff attended Wednesday's event at Stormont House, as well as the NICGC's patron, Dame Mary Peters.
She said it would be unfortunate if the games could not be held in Belfast, as they provide so much for young athletes.
"If we had the games here we could inspire lots of young people to get involved, and then our team would be stronger next time around", she said.
"I think it's also good for the public to see top quality people competing - what better for our future?"
It is understood that earlier this year, the NICGC met with the Northern Ireland Office to look at alternative ways of getting funding approved.
The NIO told BBC News NI that sporting events were "a matter for the devolved administration", but that it was engaging with relevant organisations in the interim.
It has been almost a year since it was revealed that the Belfast games were in doubt.
Northern Ireland has been without a functioning devolved government since January 2017, after power-sharing between the Democratic Unionist Party (DUP) and Sinn Féin collapsed.
The Commonwealth Games Federation (CGF) said it "empathised with the ongoing circumstances" at Stormont and hoped the situation could still be resolved.
'Asking for answers'
Mr McVeigh said the NI Commonwealth Games Council was still engaging with the five Stormont parties, but said time is running out.
"The Commonwealth Games Federation cannot allow us to be going on much longer, that is definite," he said.
"We're asking for answers, we're asking for help and assistance and we're trying to do the best we can for our young people. It's frustrating when we can't get an opportunity to move."
The Executive Office said the business case for hosting the 2021 Commonwealth Youth Games has been through a "lengthy approval process on two separate occasions" and on each occasion it has been concluded that funding for it does not represent value for money.
"The outcome has been communicated to the NI Commonwealth Games Council," it added.
About 1,000 young athletes are due to take part in the games, which would have been a landmark event for Northern Ireland's centenary year.
Sports stars like Carl Frampton, Michael Conlon and Jessica Ennis-Hill have all taken part in previous events.