Man admits killing Michael and Marjorie Cawdery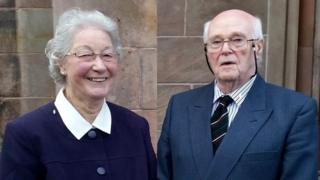 A 41-year-old man has admitted killing an elderly couple in County Armagh.
Thomas Scott McEntee, from Kilkeel, pleaded guilty to the manslaughter of Michael and Marjorie Cawdery, both 83.
The pensioners' bodies were discovered by their daughter and son-in-law at their house in Portadown's Upper Ramone Park on 26 May 2017. It is believed they were stabbed.
McEntee who is being held at a secure psychiatric unit at Knockbracken, was rearraigned in court on Wednesday.
He was flanked in the dock by two medical staff from the unit and pleaded not guilty to the murders but guilty to manslaughter by reason of diminished responsibility.
McEntee also pleaded guilty to a further five charges, namely breaking into Mr and Mrs Cawdery's home with a knife and stealing a bank card and car keys, indecently exposing himself, stealing their Renault Kangoo and causing damage to it, and driving dangerously.
In addition he admitted two counts of theft on the same date, and also entered a guilty plea to breaking into a house at Derrybeg Lane in Newry and stealing a key on 25 May 2017.
The judge, who has asked for psychiatric reports to be prepared on the accused, said: "This will be a difficult sentencing exercise".
Members of the Cawdery family were in court for the hearing.
As they were leaving a son-in-law of the victims, Charles Little, said: "We are pleased by the admissions of guilt. This takes a lot of pressure off the family.
"We'll have more to say in due course after the sentencing next month"
Mr and Mrs Cawdery met while working in Africa and married in Uganda in 1962 before moving to Northern Ireland.
At the couple's funeral, Mrs Cawdery's nephew said she loved life "and made everyone around her happy, with her positive sense of fun - and the fact that she was always more interested in other people rather than herself".
Mr Cawdery's brother said he "possessed a bright and inquisitive mind".
He said he used it to benefit others through the medical and veterinary communities in Britain and Ireland.
Local minister Rev Gary Galway said: "They were devoted to each other, a lovely couple."