Charlotte Murray: second arrest in connection to murder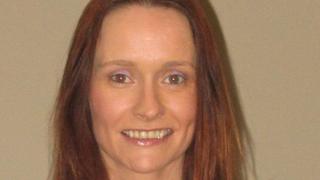 A second person arrested on suspicion of withholding information and perverting the course of justice in connection with the murder of a County Tyrone woman has been released on bail.
Thirty-four-year-old Charlotte Murray was reported missing by her family in 2013.
Her body has never been found.
Ms Murray's former partner, John Patrick Miller, 46, of Redford Park, Dungannon, is charged with murdering the 34-year-old.
Mr Miller had initially been refused bail in November 2017, but later successfully challenged the decision at the High Court with strict conditions enforced.
'Concerns over those travelling'
On Wednesday, Mr Miller's defence barrister lodged an application to be permitted to travel on holiday to Turkey for two weeks in August.
The application said he would be travelling with two other couples.
Dungannon Magistrates Court heard how prior to his arrest and charge, Mr Miller had paid £100 to the holiday organiser in September 2017.
A further £700 is due and the defendant was reluctant to pay if he was not able to travel.
A detective sergeant told the court that police were opposed to the application.
"There are concerns over some of those travelling and their role in the case," he said.
He added that the names of the other holidaymakers were only made known to him immediately before the meeting, despite having been requested last week.
'Second person on bail'
The detective said the second person who has been arrested in connection with the case "is a friend of the defendant's who remains on police bail".
"There may be developments on that imminently," he told the court.
"In addition, two of those with whom he seeks to travel are also close friends who were interviewed last October as witnesses in the investigation."
District Judge John Meehan was critical of the "casual nature" of the application to vary bail and in the solicitor's delay in providing names of those travelling to police.
"This is a very serious case," he said.
"It is a murder investigation. This holiday just happened to coincide with the prospective arraignment date for return to trial.
"The risk, to my view, is very live.
"I also find it most peculiar the defendant would seek to travel with others who are witnesses in the case."
The Judge threw out the application and listed the case for mention in June, with a potential committal to crown court for trial in August.